Singapore Post tests drone delivery services
In a city where most people live in apartments, this t-shirt landed on open ground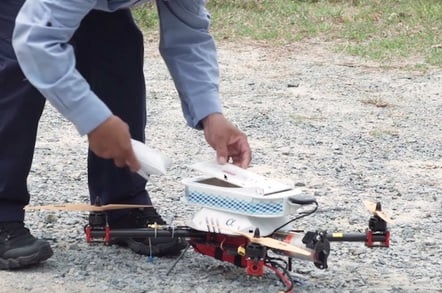 Video Singapore's postal service has trialled delivery-by-drone.
In an arrangement that will come as no surprise to observers of the tightly-governed city state, the effort was a joint venture between Singapore Post and the nation's Infocomm Development Authority (IDA).
The pair used the Pixhawk Steadidrone drone to send a letter and a t-shirt two kilometres across the nation and claim the successful delivery represents "... the first time in the world a postal service has successfully used an UAV for point-to-point recipient-authenticated mail delivery."
While Singapore Post and the IDA are proclaiming the test a success, it's worth asking if drones would work in the real world as within the city-state's boundaries most residents live in apartments. There's no sign that the drone has been able to drop a package on a balcony. Plenty of other Asian cities have high population densities, again making targeted drops tricky.
The test took place largely over water and seems not to have had to navigate extensive concrete canyons. As the video below shows, the drone landed on open ground with few surrounding buildings and did so at a time Singapore was not being drenched by tropical downpours.
Singapore Post's interest in delivery-by-drone goes well beyond the nation's borders: it fancies itself as a regional logistics provider. The test is therefore a test of airborne deliveries and an exploration of how Singapore Post might inject itself into South-East Asia's supply chains. Along the way, it may also have shown that the likes of Amazon and Google won't have drone delivery to themselves. ®
Sponsored: Beyond the Data Frontier