Dell seeking $40bn to buy EMC next week say reports
Cunning plan calls for EMC to go private, VMware stay public as cash cow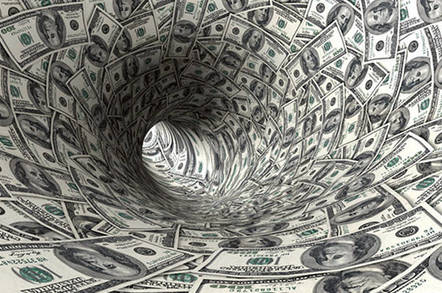 EMC/Dell deal Dell is figuring out how to borrow the US$40 billion it would need to acquire EMC, according to reports quoting the usual folks familiar with the deal.
CNBC says Dell is prepared to offer $27 a share to buy EMC. It'll need to because EMC shares closed today at $27.18, up $1.22.
Bloomberg's take on the deal also uses the $40 billion figure.
One small wrinkle: EMC's market capitalisation is currently over $52 billion.
So where might the extra $12 billion and more come from? Dell has some cash lying around, some of it probably held offshore and which it can't repatriate without handing over a big slab of tax to Uncle Sam. So why not use it for an acquisition?
Bloomberg suggests Dell would retain EMC's 80 per cent stake in VMware, but then float some of the rest to raise more cash.
Both sources say discussions between Dell and EMC are advanced, sincere, and may conclude as soon as next week.
Nobody from Dell, EMC, VMware or banks that might finance the deal is willing to go on the record about the situation. ®
For full coverage of Dell's EMC buy, click here
Sponsored: Minds Mastering Machines - Call for papers now open