French upstart Rozo: Magic beans will help us become storage giant
Mojette transform erasure coding-powered filers
Rozo the company
Pierre Evenou is Rozo Systems' founder and CEO. He was an IVC team research engineer in the IRCCyN laboratory in 2010, and decided to start up Rozo to develop more efficient scale-out file storage technology using Mojette.
Rozo has received $700,000 in funding from a French angel investor and a venture fund in France. There are ten staff and the headquarters us in Nantes, However Evenou has opened an office in San Mateo, CA, and moved out to Silicon Valley, in order to launch Rozo in the USA. He wants to have relationships with technology and distribution partners. One intention is to seek OEM partnerships for its technology.
As an early stage startup its technology development has been focussed on Mohjette and building a scale-out NAS resource. There are, as yet, no data services such as snapshots; hence end-user sales are limited by that and OEM deals look to be a good way forward.
Michel Courtoy has been appointed Rozo's COO, based in San Mateo. He started his career at Intel and has worked at several hi-tech companies since then, most recently having led his own startup to an acquisition.
Evenou has appointed Philippe Nicolas, ex-product and industry strategist at object storage startup Scality, and Eric Friis, HGST Director for Global Business Development, to its advisory board. We can perhaps draw the implication that HGST is interested in Rozo's technology, as it has its scale-out Active Archive, but not a scale-out NAS.
Use cases
Mojette has been tipped for use in data transfer across wide-area networks, distributed storage and medical image processing.
Typically scale-out filers use replication or a combination of replication and erasure coding for their data integrity and protection needs.
Rozo says its Mojette-based technology can be used for scale-out file servers storing both large and small files. Competing technologies, such as Isilon, it says, use replication to protect small files and erasure coding with large files, where the burden of replication becomes too large.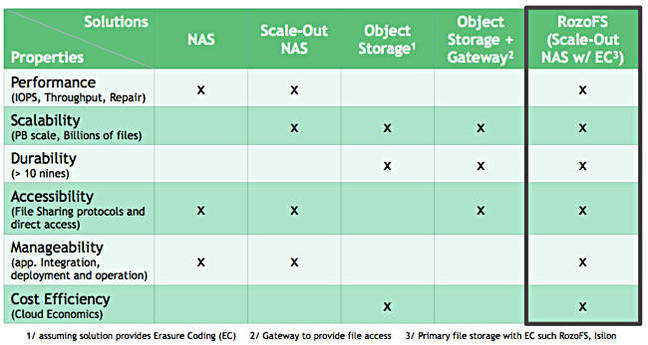 Rozo alternative products comparison chart
All data stored with RozoFS is encoded, providing a base level of security.
It has been validated with Dell, HP and Supermicro servers. Also Rozo servers have been connected using Mellanoxc 40GbE SX1012 Ethernet switch and ConnectX-3 Pro network adapter cards.
The lack of data services in RozoFS suggess market areas such as vertical applications needing its erasure coding and hyper-converged systems. Life sciences, media and entertainment, and oil and gas are three potential verticals, with media and entertainment receiving focus initially
Specifically, Rozo thinks that its storage will be of interest to people in the CloudDVR area.
It has partnered with cloud DVR (cDVR) suppliers to provide embedded distributed file storage using RozoFS, saying its ability to use erasure coding with files of all sizes means high performance when streaming out all kinds of video files. Evenou's canned quote about this says: "The RozoFS software is revolutionizing cDVR storage by offering performance that enables live services on standard x86 hardware with the highest reliability. The result is significantly reduced costs."
RozoFS is simply priced on a per-node basis irrespective of capacity. Contact Rozo Systems to find out more. ®
* Check out more on the Mojette Transform here.
** The source for both Mojette performance charts is a presentation: The Mojette Erasure Code, Benoît Parrein, Univ-Nantes/IRCCyN, Journée inter GDR ISIS/SoCSiP, 4/11/2014, Brest, which can be viewed here.
Sponsored: Your Guide to Becoming Truly Data-Driven with Unrivalled Data Analytics Performance