Reg lecture asks what's so scary about 1.5 tonnes of metal with a mind of its own?
Your driverless car will be along shortly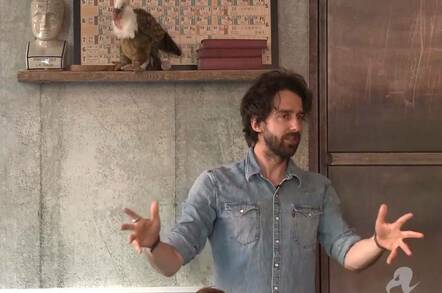 Reg lectures The technology to run driverless cars is ready. Whether humans are ready for driverless cars is quite another matter.
Scientists and philosophers are scratching their heads working out who should be responsible when things go wrong. And you can guarantee someone is considering the future of the drive-time show when there are no more drivers.
So, if you want to get ahead of the debate, you should get along to our November 24 lecture, when Professor Nick Reed will help us consider "Will taking the driver out of the car take the human out of us?"
Nick is Academy Director at the UK's Transport Research Laboratory, where as well steering our driverless future, he oversees research on topics from road construction to the possibilities of wireless charging of moving electric vehicles and autonomous cars. He is also technical lead on the GATEway project, which is trialling the use of automated vehicles in the Borough of Greenwich in London. Ticket details here.
As usual the formal lecture will be followed by a robust Q&A session, before we all wind down over a couple of beers. It will be a fascinating evening - the only thing missing will be a fleet of driverless cars to whisk us all home at closing time.
Nick's just one third of our excellent speaker lineup this year.
On November 17, Anders Sandberg of The Future of Humanity Institute at Oxford University, will be covering the ethics and technology that will allow us to live forever, as well as touching on global catastrophic risk, cognitive biases, cognitive enhancement, collective intelligence, neuroethics and public policy. Ticket details are here.
On 1 December, Peter Moore will tell us how a day at the office updating an SQL database turned into two and a half years' captivity at the hands of one of Iraq's militias. It really is a gripping story. Full details here.
So if you want to stimulate your grey matter before subjecting it to the rigours of the festive season, you're going to want to get along to one or all of our talks. See you there. ®
Sponsored: Becoming a Pragmatic Security Leader