Google Chromecast 2015: Puck-on-a-string fun ... why not, for £30?
Streamer, you know you are a streamer
No 4k-ing way
In addition to mobile apps, you can stream from a computer provided you run Google's Chrome browser, for which there's a casting plug-in. This makes for a decent means to mirror, say, a Google Docs presentation from your laptop screen to a big TV or projector, but you're limited to browser-viewed content.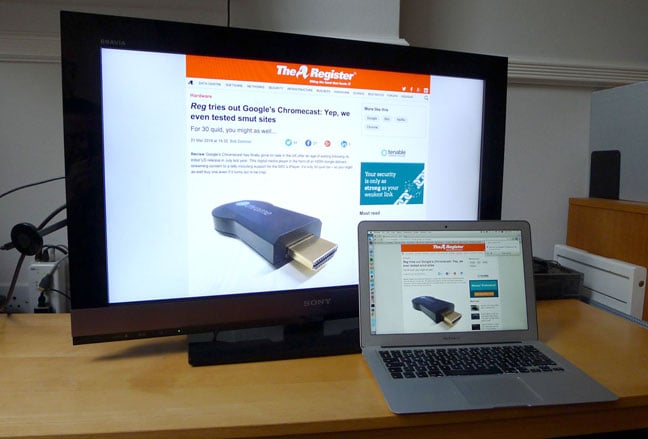 Google doesn't want share its toys so casting from a web browser only works with Chrome
If you're not a supporter of Occupy Flash and you still have Adobe Flash on your system, you can use Chrome to display catch-up content from services that don't offer a mobile app, or insist that you sign up to use one.
The Chrome specificity annoys me. If Google is happy to make casting a feature of iOS, why can't it support Firefox, Safari et al on desktops?
The new Chromecast features 802.11ac Wi-Fi, but I'm still on 802.11n and that worked well enough. The Chromecast's Wi-Fi upgrade gives it access to the 5GHz band, which is handy if you're surrounded by 2.4GHz WLANs and your neighbours enjoy microwave cookery.
However, if you were hoping for 4K streaming then don't expect to find that poking out of the side of a telly from Google or its competitors. Amazon has recently revamped its Fire TV box to support 4K streaming and the forthcoming Roku 4 will do the same.
Still, the boosted Wi-Fi gives the Chrome plug-in more bandwidth for its 'Extreme (720p high bitrate)' mode, which is handy for streaming browser-accessed media, but doesn't improve the lag you experience with web pages. There's still about a second's delay between scrolling on your laptop and the TV picture being updated.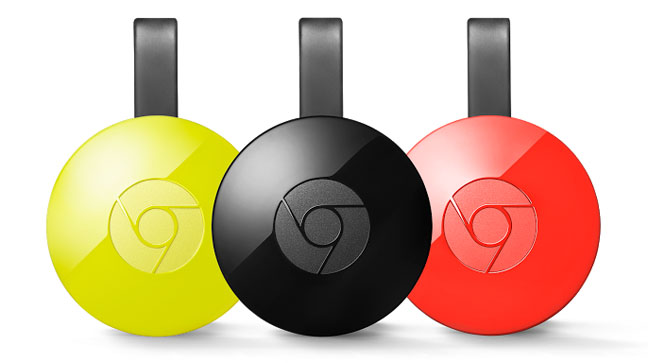 Colour TV
The Reg Verdict
My 2011 Sony TV works a treat, but its version of BBC iPlayer is no longer up to snuff and fares very poorly in comparison with the mobile app versions: it doesn't display new content as quickly, buffers far more often than the apps do, and the picture quality isn't as good.
Thanks to the Chromecast, I don't give a proverbial whether the TV iPlayer ever gets fixed.
In fact, using HDMI-CEC, I can begin playing a programme much more quickly using Chromecast than I can using the Sony remote and the on-board iPlayer. Win.
Your mileage may vary, however. If you have a first-gen Chromecast, there is no point replacing it unless you think the upgraded Wi-Fi will help, and that depends on the relative positions of your Wi-Fi router and your telly.
If you have a set-top box for NAS-sourced or on-board hard drive content, that's a better option for playing such material because it won't rely on an ad-filled third-party app for remote control. Chromecast naturally favours Android users – the set-up app has content-finding functionality absent from the iOS versions – but the device is easy to set up whichever mobile platform you favour.
The real point is that, at £30, Chromecast is a true impulse purchase, so why not avail yourself of one? Seek out discounts on the old one and get it cheaper, if you can. Even if, like me, you only ever use it for one role, like iPlayer, it'll be worth it. ®

Google Chromecast 2015: Puck-on-a-string fun ... why not, for £30?
Streaming dongle compatible with iOS, Android and the Chrome browser on Mac and PC, featuring an integrated HDMI cable, support for 802.11ac Wi-Fi plus an external PSU