Microsoft's HoloLens: Here by 2016, mere three THOUSAND dollar price
Redmond shows off geek goggs with 3D shoot-em-up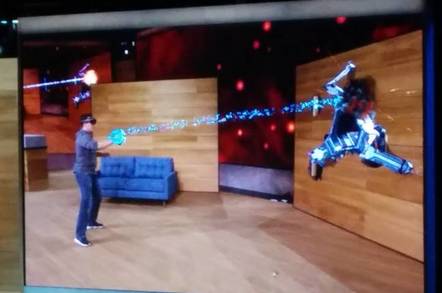 Microsoft has been showing off its latest toys at a New York press conference – and HoloLens is looking likely to be out by the end of next year.
Redmond announced that the HoloLens developer kit is available for preorder from today, with delivery in the first quarter of 2016.
It's not cheap, $3,000 per kit, but it looks as though Microsoft is moving more quickly than first thought on its high-tech specs.
"HoloLens is packed with space age technology," enthused Terry Myerson, Microsoft's windows and devices group veep. "We've got see-through high definition lenses, spatially-aware sound, movement sensors and custom built silicon. And it's fully untethered."
The HoloLens team demoed a new game Microsoft has been working on, dubbed Project X-Ray. The headset maps out a living room and then superimposes robots breaking through walls while the player shoots them with a hologramatic gun wrapped around their hand.
As gameplay goes, it was a pretty basic demo, featuring lots of funky graphics but nothing earth-shattering. Yet, with the right developers, Microsoft might well have a winner on its hands.
That said, there are going to be hurdles – chiefly cost and battery life. As the price for the SDK and the HoloLens technical specs show, this isn't going to be a cheap device.
Gamers typically spend a lot on their hardware, but HoloLens could be a push for many. ®