If you wanted Windows 10, it looks like you've already installed it
Market share for Redmond's latest hits SEVEN per cent but growth slows markedly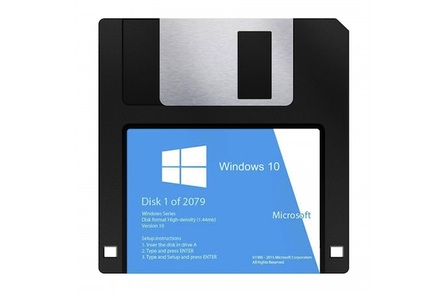 Windows 10 looks to have won about seven per cent of the world's desktop operating system market.
That's The Reg's back-of-the-spreadsheet calculation after running our eye over September's data from Netmarketshare and StatCounter, the two services we regularly eyeball to see what's going down on the desktop.
Here's the tale of the tape for Windows 10 over the last four months.
| | NetMarketshare | StatCounter |
| --- | --- | --- |
| June | 0.16 | 0.17 |
| July | 0.39 | 0.36 |
| August | 5.21 | 5.38 |
| Sept | 6.63 | 7.64 |
To grok that data, remember that Windows 10 launched on July 29th. With that in mind we can see that August saw plenty of growth, but things slowed rather markedly in September.
The losers are Windows 7 and Windows 8.1, as the graphs below show both have dipped markedly since Windows 10's debut.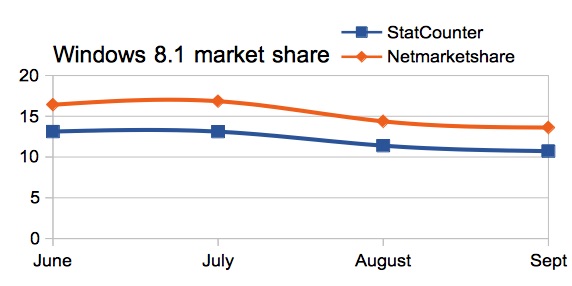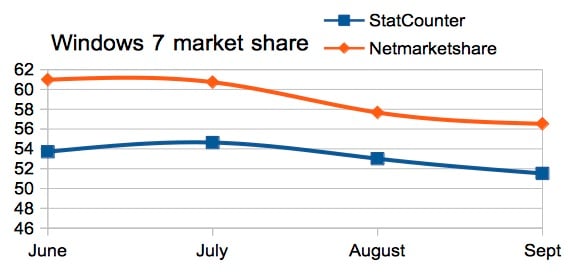 Windows 8 market share data, June-September (top)
Windows 7 market share data for the same period (bottom)
When we crunch the ratings companies' numbers we find Windows 7 is down about an average of four per cent and Windows 8.1 is down around two, results that neatly match the Windows 10 result.
Adding another one per cent market share during September is no mean feat: any company that achieved that outcome over a single month would be proud of the outcome.
Is Microsoft? The company always finds a reason to talk up a Windows launch, so in public it will be saying everything's gone just swimmingly. The Reg suspects it's not a stellar launch. Windows 8.1 did not, by all accounts, win many friends in business. Corporate PCs are slower to update than their cousins at home, as canny sysadmins wait for bugs to be splatted and hatch plans for orderly migrations. Yet the majority of Windows 8.1 users have stuck with the old, frustrating, operating system, despite Windows 10 being free. Why?
Windows 7, meanwhile, is stable and doesn't need to be replaced in a hurry on the business desktop, no matter what Microsoft might say about Windows 10's magical empowerment powers. Might the mess of Windows 8.x's interface be deterring the rump of Windows 7 users from going anywhere near a tiled interface?
We'll have another look at both firms' market share trend data next month.
Sponsored: Minds Mastering Machines - Call for papers now open