Teenage backup biz Code42 gets cash bonanza
Pockets millions to grow forensics and analytics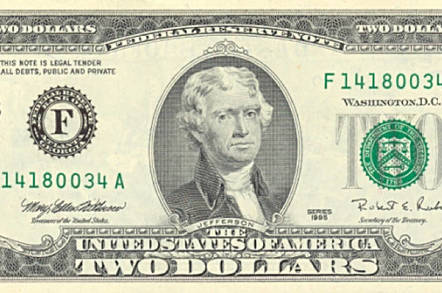 End-point backer-upper, file-sharer and security monitor Code42 has just raised a huge chunk of cash to grow its business into the big time.
Code42 was founded back in the stone age, 2001, making the company a relatively aged 14. In 2013, it took in its first funding, a substantial $52m in A-round. This was 12 years after it was founded, so we're not talking about basic product technology development money here.
Its history as an endpoint backup business, then adding file sync and share, was outlined here in late 2014. We noted it was profitable and had more than 30,000 paying customers.
In July this year it replaced CEO Matthew Dornquast, a co-founder, with Joe Payne, who has a remit to grow Code42's business in the IT security, forensics and security analytics areas. An expansion of focus into data movement monitoring became apparent in September.
Now it has taken in $85m in a B-round, taking total funding to $137.5m. The round was led by new investors JMI Equity and New Enterprise Associates, Inc. (NEA). Existing investors Accel and Split Rock Partners also participated in the financing.
The investors were encouraged by Code42, boasting that:
It has doubled its enterprise Software-as-a-Service (SaaS) revenue year-over-year, led by global enterprise-wide deployments,
Customers make up seven of the 10 world's largest technology companies; 10 of the 20 most valuable brands in the world; and seven of the eight Ivy League colleges and universities in the United States,
85 per cent Compounded Annual Growth Rate (CAGR) in Annual Recurring Revenue (ARR) in the enterprise segment over the past three years,
Data volume under management has grown 4,900 per cent since 2012 to five exabytes, 100,000 times the size of the US Netflix movie library,
The customer count growing to more than 37,000 businesses, meaning circa 2,000 new customers in two years,
It has a 98 per cent customer retention rate.
Eighty-five million is a lot of cash. What's it going to be used for? Payne said: "This funding enables us to grow even faster in endpoint backup and accelerates our efforts to build analytics and actionable intelligence on top of the historical archive of end-user data."
Analysing the cstomers' data is the key here, as Harry Weller, general partner at NEA, pointed out: "Code42 customers' backup archive is a unique asset nobody else in security has: all the data. As a result, the company has an opportunity to build a leadership position in unlocking the forensic and analytical value of that data."
We think the possibilities here won't have escaped Druva either, with its existing end-point protection services.
In fact all end-point backup suppliers must be alert to the possibilities of using analytics to comb through customer data looking for untoward events.
Yet $85m is still a lot of cash for product development. Could Code42 be aiming to spread some if it around by growing its go-to-market infrastructure with offices and bods? There again, might it be thinking that it would be silly to write analytics from scratch and maybe the time is right to buy in some tech?
What's certain is that Code42 is a company in a hurry - the new CEO has an $85m war chest to grow the business. Watch out for more news as Code42's directions become clearer over the next few months. ®