NoSQL pioneer Basho stamps its mark on time stamp data with Riak TS
We can do this better than Cassandra, CEO claims
The Riak NoSQL database is now available in a version capable of processing vast gobbets of Internet of Things data sources at high speed.
Its creator Seattle-based Basho Technologies says the new product Riak TS (as in time series) incorporates the high availability and scalability of its nippy sister Riak KV, short for key-value data.
In addition Riak TS is built to store and retrieve time series data with enhanced read and write performance. And it includes a relationship database-friendly SQL-like query language.
The Internet of Things and the vast reams of data it generates is growing at a lick - CEO Adam Wray cites The Weather Channel, a Basho customer, which processes 40TB of data a day. He senses a big opportunity, telling The Register that Basho built Riak TS in response to requests from customers, including one who said: "Make it easier for us and you can own this market."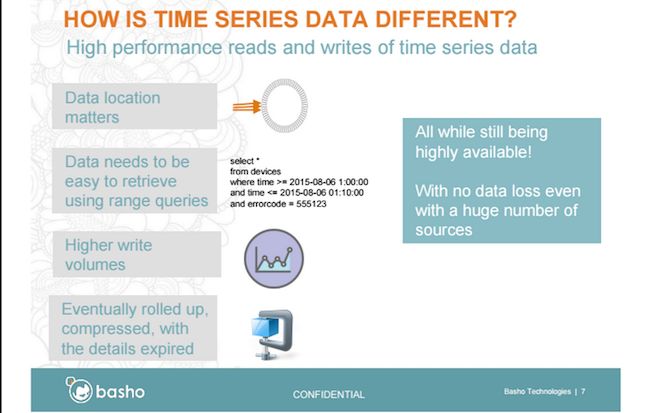 Basho Powerpoint - it's OK, info is not confidential anymore
Today some Basho's customers are putting data accumulated through small IoT projects into relational databases – "for the lack of a better option". Others are dropping their unstructured time series data into Cassandra. This is highly scalable but slow, according to Wray. Also Cassandra's columnar structure makes for unwieldy handling of time stamp data, he says.
Wray was brought in by Basho investors in 2013, following a cull of top management, to determine a "go-to-market" strategy for a company that seemed to have lost its mojo compared with other NoSQL stars such as MongoDB, Datastax (the top Cassandra player) and Couchbase.
Wray describes himself as an enterprise guy and said his goal was always to target businesses. "We recognised that we do not need to be the biggest [NoSQL] open source community."
Under his watch Basho has rebuilt its engineering and sales teams and today claims 200 enterprise customers, including Comcast, Bet365 and the NHS and Wray says the 125-person company is on course to grow revenues 80-90 per cent this year – although from what base we cannot tell. But Wray does have this to say: "Despite all the hype Datastax is not much bigger than us."
Riak TS gets its first public outing today at AWS re:invent in Las Vegas. ®
Sponsored: What next after Netezza?