Apple CEO Tim Cook: Email keyword sniffing? We'd NEVER do that!
*Cough* Google *cough*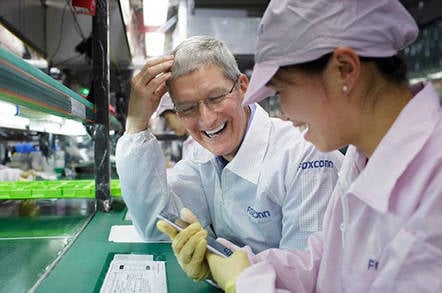 In an interview which covered the company's data protection practices, Apple CEO Tim Cook has said that the company believes "from a values point of view, not from a commercial interest point of view," that privacy is a fundamental human right.
Cook was being interviewed on National Public Radio's (NPR) All Tech Considered show, where he fielded questions about the company's use of fanboi data and its compliance with government snooping requests.
Earlier this year, Cupertino found itself on the bad side of the US Department of Justice when it explained that it was technically impossible to provide them with real-time access to iMessages.
Asked about Apple's compliance activities, Cook said: "You know, I can't talk about a specific case, but the Government comes to us from time to time and if they ask in a way that is correct and has been through the courts, as is required, then to the degree that we have information then we give that information."
Apple designs its products with privacy and security in mind, claimed Cook: "Some of our most personal data is on the phone," he added. "Our financial data, our health information, our conversations with our friends and family and co-workers. Instead of us taking that data into Apple, we've kept data on the phone and it's encrypted by you. You control it."
Cupertino and the Chocolate Factory were criticised by FBI director James Comey last year for giving users' encrypted sovereignity of their own devices. Cupertino's head honcho said "I don't think you will hear the NSA asking for a backdoor," although he acknowledged "there have been different conversations with the FBI."
He told the station:
My own view is everyone's coming around to some core tenets, and those core tenets are that encryption is a must in today's world.
Apple, Google, and 140 other technology companies wrote to US President Barack Obama in May to argue against compulsory backdoors.
"Everybody's coming around also to recognising that any back door means a back door for bad guys as well as good guys, and so a back door is a nonstarter. It means we are all not safe.
I don't support a back door for any government, ever.
When Cook was told by the NPR host that some critics interpreted Apple's focus on privacy as a "not-so-subtle" dig at Google, he gave a sharp exhalation which sounded like a stifled laugh.
"People want us to help them keep their lives private," offered Cupertino's big cheese, avoiding the Chocolate Factory bait. "We see that privacy is a fundamental human right that people have. We are going to do everything that we can to help maintain that trust."
He told the station:
Our view on this comes from a values point of view, not from a commercial interest point of view. Our values are that we do think that people have a right to privacy. And that our customers are not our products. We don't collect a lot of your data and understand every detail about your life. That's just not the business that we are in.
Apple was given full marks by the Electronic Frontier Foundation (EFF) in its 2015 "Who Has Your Back?" report, alongside Dropbox and Adobe.
Explaining the rating to El Reg at the time, Nate Cardozo, an EFF staff attorney, said that "with this report, we ask specifically how well companies stand up to the government, not what kind of business they run. In fact, there's likely room for an entirely different report that looks at how much data companies collect, retain, and share."
On Apple's collection, retention, and sharing of fanboi data, Cook said: "Let me be clear. If you buy something from the App Store, we do know what you bought from the App Store, obviously. We think customers are fine with that. Many customers want us to recommend an app."
He added:
But what they don't want to do, they don't want your email to be read, and then to pick up on keywords in your email and then to use that information to then market you things on a different application that you're using.

If you're in our News app, and you're reading something, we don't think that in the News app that we should know what you did with us on the Music app — not to trade information from app to app to app to app.
A "not so subtle" dig indeed. ®
Sponsored: Detecting cyber attacks as a small to medium business