AF-FIR-MAT-IVE: Second suspension for robot-voice helldesker
'Hello, IT, have you tried sticking it up your arse?'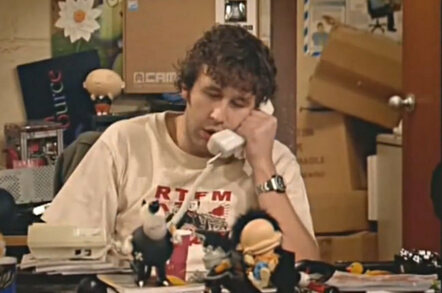 An IT help desk staffer at New York City's Health Department is facing his second suspension for answering customer calls in a robot voice.
Ronald Dillon has worked for the Health Department since 1976, and holds a bachelor's degree in mathematics as well as an MBA.
He was once a project manager and supervisor at the Health Department, but three years ago was transfered to the help desk job, reported DNAinfo.
Dillon was suspended for 20 days in 2014 after an administrative hearing in which he had been accused of answering customer service calls in a robot voice.
Another disciplinary recommendation from the Office of Administrative Trials and Hearings Judge Ingrid Addison ruled on 15 September that Dillon should be suspended without pay for 30 days "for twice talking in a robot voice and for other infractions".
Judge Addison explained that Dillon had "stated in a slow, stilted and monotonous voice, 'You have reached the Help Desk. This is Mr. Dillon. How may I help you?'", after which he returned to conversing with regular tone and speed.
As evidence at the trial, the Health Department presented an email from one of the agency's senior directors who had complained to Dillon's supervisor that he had spoken to a robotic voice during a customer service call back in March, 2014.
Addison determined that, despite "being instructed by his supervisor, both verbally and in writing, that [talking like a robot] was unacceptable and unprofessional," Dillon had continued to do so.
Dillon disputes that he spoke like a robot. "Rather," DNAinfo reports, "he was speaking in a neutral manner to appease his supervisors, who complained about his tone of voice."
Addison stated that Dillon seemed to have a chip on his shoulder regarding his position at the Health Department.
"What was apparent from his rambling explanation and his general testimony was that he felt his skills and education to be superior to the requirements of his current job, especially given the kinds of projects to which he had been previously assigned," she said.
Dillon's other seemingly unprofessional quirks included neglecting customer service assignments, ignoring his supervisor's requests, and purposely misdirected calls on several occasions in 2015.
Dillon declined to comment on the charges, according to DNAinfo, as he "wouldn't be free to discuss the judge's decision until next week". ®