Intel doubles capacity and speed of PCIe flash card
New card is literally two cards in one – they've just stuck two DC P3600s together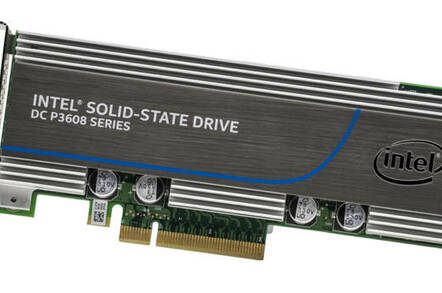 Intel has near-doubled the capacity and speed of its DC P3600 PCIe NVMe flash card with a DC P3608 refresh.
It's doubled the number of PCIe lanes from 4 to 8 and upped the maximum capacity from 2TB to 4TB, while still using 20nm MLC flash – the HET variety – in the P3608's case. The net effect is to boost both IOPS and bandwidth, as the table shows.

DC P3600 and P3608 comparison
850,000 random read IOPS and a 5GB/sec bandwidth are pretty impressive. How has it been done?
Intel hasn't formally announced the product, but some online media have been favoured with pre-release info (although not us). Anandtech says the product is basically two DC P3600 cards using an expansion card, behind a PLX PEX8718 PCIe switch chip. To its host, it looks like two NVMe drives. Intel's RSTe drivers will enable hosts to get the full performance potential of the card.
We're told by Intel that the dual-controller architecture allows the SSD to simultaneously transfer data and can be aggregated through the Intel RSTe software. This is a software enterprise RAID driver.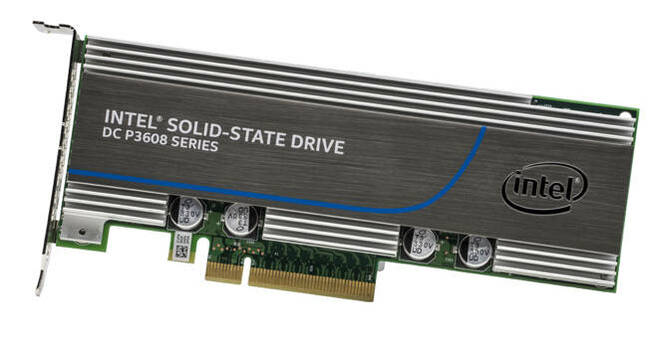 Intel DC P3608 NVMe PCIe flash card
The power consumption of the DC P3608 is higher than that of its P3600 precursor, obviously, as it consists of two them strapped together.
When the DC P3600 was introduced in June last year, it had DC P3500 and DC P3700 companions. Perhaps these will get similar refreshes?
We expected a P520N NVMe flash card from Micron back in June 2014. Then its P420M outperformed Intel's DC P3600, with 750,000 random read IOPS from its 8-lane gen 2 PCIe interface. The P3608's 850,000 random read IOPS leaves that in the dust, as does its 5GB/sec bandwidth compared to the PO420m's 3GB/sec.
Get a DC P3608 data sheet and specification here. Intel hasn't formally announced the product yet, meaning we have neither availability nor pricing information. ®