Hillary spillery finds half-hearted phishery
Five messages? Only FIVE? C'mon, that's just not trying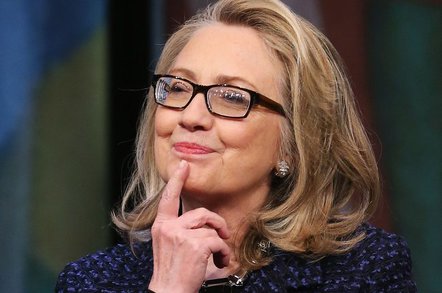 In spite of US Presidential wannabe Hillary Clinton being one of the world's most recognisable names, hackers were so slack they only managed to get five phishing emails into her now-famous personal email server.
The Associated Press calls the too-lazy-to-live attackers "Russian-linked", but that's just because if the Democratic White House hopeful had "clicked on the attachments", her PC may have been infected, and opened a backdoor to one of the attacker's three command and control servers – one of which was in Russia.
The AP didn't find time to mention the other two countries. The newswire has the self-awareness to observe that this whole revelation "doesn't necessarily mean Russian intelligence or citizens were responsible."
Apparently, the malware-laden mails were analysed back in September 2011, a month after black-hats attackers hackers utterly inept losers slipped Hillary the malicious messages disguised as speeding tickets.
You know the ones, the ones that everyone gets. Everyone gets malware-booby-trapped spam. Not just important people like Hillary. Everyone. It's spam. Horrible spam.
The AP piece quotes campaign spokesman Nick Merrill as saying: "We have no evidence to suggest she replied to this email or that she opened the attachment. As we have said before, there is no evidence that the system was ever breached. All these emails show is that, like millions of other Americans, she received spam."
Although Clinton's email address isn't public, it had somehow found its way into the hands of miscreants, but unsurprisingly it doesn't seem to have been used by more intelligent hackers for similar attacks.
The trove of Clinton emails released on Thursday in the US under Freedom of Information laws also include a complaint by the State Department's then policy chief Anne-Marie Slaughter griping that the technology the department had to use was "so antiquated that NO ONE uses a State-issued laptop and even high officials routinely end up using their home email accounts to be able to get their work done quickly and effectively." ®