El Reg lecture shows the merely human how to live forever
Transhumanism for beginners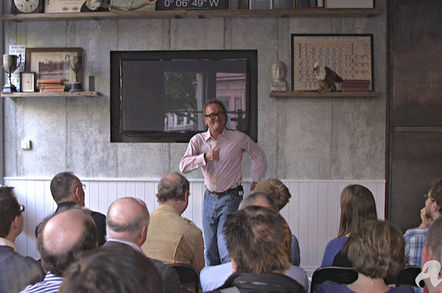 Reg Events If you could live forever, would you actually want to? That's a question best considered over a pint which is exactly what we'll doing at our first Christmas 2015 lecture on 17 November, when we're joined by leading transhumanist Anders Sandberg.
Anders will be discussing his work researching both the ethics of living forever, and the technology that will allow us to do so.
Given that Anders does this at The Future of Humanity Institute at Oxford University, his work also covers global catastrophic risk, cognitive biases, cognitive enhancement, collective intelligence, neuroethics and public policy. These are all topics that could be debated for ever and probably will. We'll cover as much as we can in a single night. Ticket details here.
As usual the formal lecture will be followed by a robust Q&A session, before we all wind down over a couple of beers. It will be a fascinating evening that some of us will be talking about for years to come - possibly centuries if Anders is right.
Anders is just the first in a top notch lineup of speakers who are not just experts in their fields, but are brave enough to go head-to-head with the most challenging bunch of readers in tech-dom.
On 24 November, Professor Nick Reed of the Transport Research Laboratory will be separating fact and fiction on driverless cars. And you may be surprised just how much fact there is. Details here.
On 1 December, Peter Moore will tell us how a day at the office updating an SQL database turned into two and a half years' captivity at the hands of one of Iraq's militias. It really is a gripping story. Full details here.
So if you want to stimulate your grey matter before subjecting it to the rigours of the festive season, you're going to want to get along to one or all of our talks. See you there. ®