SaaS biz 'made up 99% of sales and defrauded investors of millions'
CEO and CFO in hot water with the Feds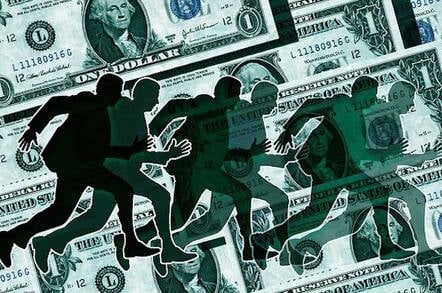 If you bought internet services from Illinois-based ContinuityX Services, the US Securities and Exchange Commission would like a word, since you may be part of a very, very small group – far smaller than the company itself represented.
"We allege that Godwin and Roth cheated investors out of millions of dollars, depicting ContinuityX as a successful Internet service sales company, when in reality it was a sham from beginning to end, complete with phony customers and fake contracts," said Timothy Warren, Associate Director of the SEC's Chicago Regional Office.
The SEC charges that from April 2011 to September 2012, ContinuityX reported revenues of $27.2m, when in fact 99 per cent of these came from fraudulent and fictitious sales. CEO David Godwin and CFO Anthony Roth knowingly lied in financial filings in order to support the stock price of the publicly listed company, the SEC claims, while they sold stock options.
According to the complaint [PDF], Godwin and Roth set up a series of shell companies and sold them internet services from AT&T to earn commissions from the telco. ContinuityX paid the security deposits for the service buyers, who the SEC claims never intended to pay up, then sold the invoices to a factoring firm for a percentage of their value to generate extra cash.
Between June and November 2012, Godwin and Roth used these fictitious earnings reports to hold a bond funding round, which brought in $6.9m dollars from 31 investors. This accounted for over half the firm's total cash flow at the time, according to the SEC.
In September, Roth handed in his resignation and left the company, the complaint states, but not before receiving $351,800 in compensation and $456,098 of profits from sales of ContinuityX stock. A new CFO had been appointed the month before and began to notice something was wrong with the company's books.
Undeterred, Godwin tried to raise even more money by even dodgier methods, according to an FBI indictment. Between November 2012 and January 2013 he got an additional $6m in funding from two victim financing companies by getting one of his sales team to impersonate a telecommunications company employee and claim that the firm owed ContinuityX $12m in unpaid invoices.
But by then the wheels were coming off the scam. The new CFO called in auditors to go through the company books after he found a $9m black hole in the accounts, although Godwin assured both parties nothing was wrong – and at the same time, paid himself a salary of $1.3m.
The CFO and auditors started contacting suppliers and found a string of fake orders and invoices. They discovered that suppliers had canceled contracts with the firm, something Godwin admitted concealing.
Godwin said withholding the information "was a failure in judgment," the complaint reads, and he was forced out of the firm in February 2013. Shortly afterwards ContinuityX filed for bankruptcy.
The SEC is seeking the return of investors' cash and the disbarment of the two from holding directorship roles in any company. In addition, the FBI has charged Godwin with six counts of wire fraud and is seeking the return of $6m in funds. ®
Sponsored: Minds Mastering Machines - Call for papers now open