Oakland mayor fires warning letter to Uber: Welcome to our city. Now behave
Libby Schaaf puts case for using tech to empower people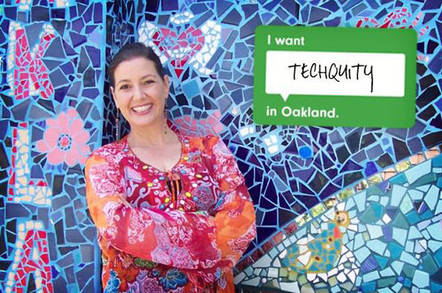 The Mayor of Oakland in California has warned taxi-ordering app Uber that it needs to behave when it moves into a new office complex in the heart of the city's downtown.
In her keynote at the Code for America Summit Wednesday morning, Libby Schaaf noted that the city of Oakland has "mad love for disruptors," but told attendees that she sent a "very explicit letter" to Uber in which she encouraged them to behave well.
Uber recently purchased the dilapidated Sears building on Oakland's main thoroughfare, Broadway, for $123.5m. It plans to renovate its 300,000 square feet by 2017 and use it to house 3,000 employees. The move will make it the largest company in the city.
Schaaf claimed in a press conference this week that the company has chosen Oakland for "its magic, for its soul," but the company has a checkered history and for many it is the embodiment of a heartless, unethical and misogynistic "tech bro" culture.
Uber once published a blog post in which it analyzed its user data to discover likely one-night-stands. Later, faced with claims of sexism, one of its executives threatened to leak embarrassing details of a woman journalist who had written the stories.
The upstart has also been fined for ignoring laws in a number of European countries, leading to raids on its offices. Two of its executives are currently on trial in Paris. It has been accused of failing to conduct proper background checks on its drivers and then trying to avoid liability for crimes they have committed while working for Uber. And the company has also been sued by its own drivers, who claim they should be treated as employees rather than as independent contractors, and provided with benefits.
Techquity?
Schaaf had a broader point about recent developments in tech in the Bay Area, however, coining the term "techquity" to describe how technology can be used to bring equity to all citizens and deliver city services to those who need it most.
"Let's be honest, government has not always served people equally," she said. She then outlined a range of programs that have been introduced in the City of Oakland to improve how it does its job. Its "digital first" program would, for example, "let people use government services while in their pajamas on the couch."
She outlined a new project to make Oakland's budget accessible and understandable by putting out raw budget data in machine-readable formats and allowing others to build apps and data visualizations of the information.
With Oakland becoming an increasingly popular place for tech companies to locate, thanks to sky-rocketing rent prices in San Francisco and Silicon Valley, Schaaf pointedly asked tech companies to embrace "techquity" in their hiring practices, operations, and engagement with the local community.
It's not the first time Schaaf has put out the message that Oakland is different – positioning it as a San Francisco with a heart. "We like to mix it up a bit in Oakland," she said at a similar conference earlier this year. "Here we have artists, non-profits, government."
"We need to stop talking about the digital divide and start building the digital bridge," she argued. The call was received enthusiastically by the conference attendees. Whether Uber executives are as persuaded is an all together different matter. ®