Straight from the horse's mouth: It's October 7 for Pure's IPO
New York Stock Exchange gears up for the listing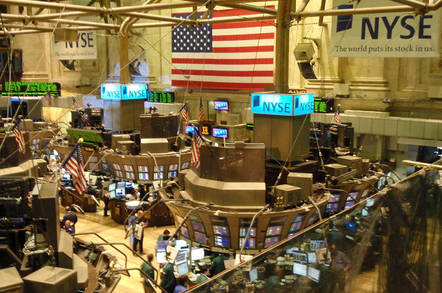 Pure Storage has told us something quite interesting: "Pure Storage will be listing shares for our initial public offering at the New York Stock Exchange on Wednesday, 7 October."
One of the most eagerly awaited initial public offerings will take place on Wednesday next week with several companies anxious to see how well the IPO performs.
Fellow all-flash array startup SolidFire wants to IPO and we understand hybrid and all-flash startups Tegile and Tintri are also keen to go public.
The Box and Nimble IPOs were successful, with directly-comparable Violin Memory's being a disaster. What the queued up storage startups hope is that Pure's IPO is successful and that it signifies a rising tide of investor appetite for their own stock when it is offered to the public.
For Pure the IPO will be the culmination if a hard-fought ride to the top of the all-flash array (AFA) startup tree. Basically, it's seen off Violin Memory and beaten both Kaminario and SolidFire as a general enterprise AFA supplier.
Other AFA startups such as Skyera have collapsed, with its assets being bought by WD for HGST. Cisco bought Whiptail and that acquisition foundered with Cisco canning the product line.
IBM bought Texas Memory Systems, and sells the tech as its FlashSystem. Nimbus Data has faded from view with an Austin, TX, office closing, an ongoing lawsuit from a customer called Maximus, and a website that hasn't been updated with news for over a year.
Pure's strongest competitor is EMC which bought the XtremIO startup and claims it has sold a billion dollars worth of kit in six quarters. Gartner and others show EMC leading the AFA market, with Dell, HDS, HP, IBM and NetApp making good progress in their respective customer bases.
EMC is suing Pure for improper recruitment of its staff.
Our take is that Pure is burning cash and needs the IPO to be another funding round. It has to transition its business to becoming profitable. That means getting costs under control and winning customers on technical and business merit, with less matching of competitors' discount offers, which we understand, has been happening to some degree.
Newer competitors such as SanDisk, Tegile and Tintri are in the AFA market, with Nimble expected to follow suit and EMC's DSSD unit expected to have a product in six or so months. Don't expect Pure to have an easy post-IPO ride; the AFA business sees fierce competition and breakneck technology development. ®
Sponsored: Minds Mastering Machines - Call for papers now open