Pasta is now a THING, says Cisco
So are QR codes. No, really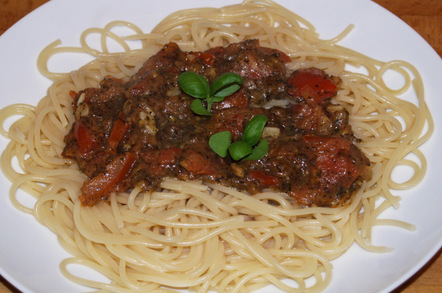 QR codes are now officially part of the Internet of Things hype-cycle.
That news comes courtesy of Cisco, which has inked a deal with Barilla, under which the codes will be printed on pasta packs to try and add some kind of Thingish excitement to one of the world's starchy staples.
No, really. Here's The Borg's press statement, glorying in the title From the Ground to the Grocer, Barilla Makes Use of Cisco's Internet of Everything to Give Consumers Insight into the Journey of Their Food.
The QR code lets consumers do a paddock-to-plate-style trace of the particular pasta-pack they're thinking of buying, or as the release puts it: "scan a QR code on the back of limited edition Farfalle Pasta and Tomato and Basil Sauce packages to easily access a website that tells the story of the specific production batch, through a detailed analysis of all major phases of the supply chain."
In other words, what Cisco, NTT Data, and Italian professional services firm Penelope have put together is a supply-chain food safety database.
That's a good thing – it suggests that paddock-to-plate tracking is finally getting legs.
And it hints at what kinds of things the Borg wants to assimilate in the future, if at some point the world finally decides it doesn't need the next new enormous router.
But QR codes? Let's party like it's 1999. ®
Sponsored: Beyond the Data Frontier