The UN made privacy a human right – but that's not good enough for Team Snowden
Whistleblower's pals want govts to sign up to new treaty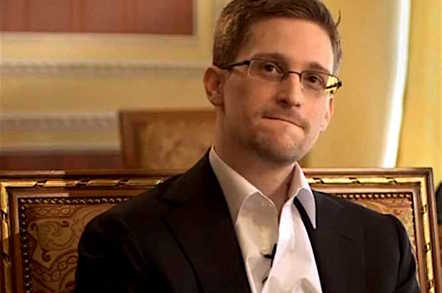 NSA whistleblower Edward Snowden has backed calls to make privacy a basic human right.
Y'know, Article 12 of the United Nations' declaration of human rights states that "no one shall be subjected to arbitrary interference with his privacy," but whatever. It seems Snowden wants all governments, including those not in the UN, to sign up to a treaty to specifically safeguard people's private lives.
In a video appearance at a New York Forum, Snowden described dragnet surveillance of citizens' computers, phones, and other gadgets as an international threat.
"This is not a problem exclusive to the United States ... This is a global problem that affects all of us," Snowden said during a brief appearance at the conference via a video link from Moscow, CBC reports. "What's happening here happens in France, it happens in the UK, it happens in every country, every place, to every person."
A launch event to promote the so-called "Snowden Treaty" last week was organized through the online campaigning community Avaaz.
Nations signing up to the treaty have promised to give a safe haven to whistleblowers, as well as placing strict limits on surveillance programs and abandoning mass surveillance.
The treaty idea was the brainchild of David Miranda, who is campaign for Brazil to grant Snowden asylum and the boyfriend of Snowden confidante and lawyer-turned-journalist Glenn Greenwald. Backers of the treaty include intellectual Noam Chomsky and filmmaker Oliver Stone.
The UN's human rights documents state:
No one shall be subjected to arbitrary interference with his privacy, family, home or correspondence, nor to attacks upon his honour and reputation. Everyone has the right to the protection of the law against such interference or attacks.
Meanwhile, this new treaty – also backed by Kim Dotcom, Vivienne Westwood, DJ Spooky, and various journalists – reads, well, actually all we've got at the moment is a summary [PDF]. Instead, this is what the website says:
We demand privacy on the internet. We demand privacy in our homes. We demand the government protects our personal privacy online.
More details of the agreement can be found here. ®
Sponsored: Becoming a Pragmatic Security Leader