NEW ERA for HUMANITY? NASA says something 'major' FOUND ON MARS
Top brains assemble to brief world on discovery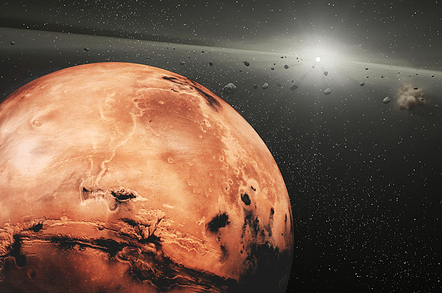 Perhaps to give the President time to act in advance, NASA says it will unveil a "major" discovery it has made on our planetary neighbour Mars later today.
Nobody knows what the discovery could be, but there has to be at least some chance that at last, alien life has been discovered on another planet than our own.
The US space agency's Curiosity rover recently found the wettest patch of ground it has so far observed on the Red Planet during its three-years-and-counting mission.
So what could NASA be planning to tell world+dog on 28 September?
A quick look at the research carried out by some of the brain boxes who will be participating in the news conference may offer us some clues.
For example, planetary science and volcanology expert Lujendra Ojha says on his website:
One of my interest[s] is understanding the formation mechanism of Recurring Slope Lineae (RSL). RSL are active features on Mars that might require flowing water.

On Mars, they form and grow during warm seasons and disappear during cold seasons. They recur over multiple years in generally the same location.

I use remote sensing instruments on board various Mars orbiting space crafts to understand their geological/hydrological nature. Additionally, I use data from CRISM onboard MRO to understand its formation mechanism.
Planetary geology professor Alfred McEwen – who has similarly carried out research into volcanism, impact cratering, and slope processes on Mars – will also be present on Monday.
NASA has promised to reveal a solved mystery on the Red Planet. Could it be evidence of water on Mars, and therefore hints of life? We'll know more very, very soon. ®