We want flying space cars and robo-butlers, and Pure Storage wants $450m in IPO cash
What's more likely to happen?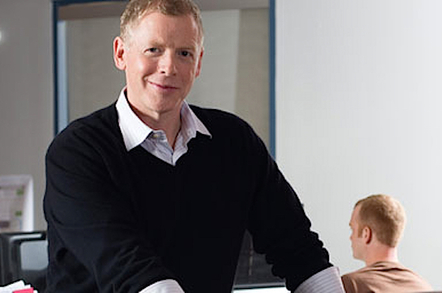 Flashy all-flash-array startup Pure Storage wants $450m in cash from its looming stock market debut. This would value the company at $3.1bn, giving its venture-capital backers a return of up to 6.6x on $470m in total funding.
In an amended S1 filing with US financial watchdog the SEC, Pure Storage has priced its IPO shares between $16.00 and $18.00, valuing it at $3.1bn at the $17.00 mid-point.
It aims to sell 25 million Class A Common stock shares, and could raise up to $450m in cash, according to Bloomberg.
The amended S1 filing states:
We estimate that the net proceeds from this offering will be approximately $395.2 million, based on an assumed initial public offering price of $17.00 per share, the midpoint of the price range set forth on the cover page of this prospectus, after deducting underwriting discounts and commissions and estimated offering expenses payable by us.
"We intend to use the net proceeds from this offering primarily for general corporate purposes," the biz adds, "including expansion of our product development and sales and marketing organizations. We may also use a portion of the net proceeds from this offering for acquisitions of, or investments in, technologies, solutions or businesses that complement our business, although we have no commitments or agreements to enter into such acquisitions or investments."
The big, big question is will investors buy into such a valuation, given Pure's enthusiasm for quoting mistaken Gartner estimates?
Looking at Pure's revenue and net income history, growth in sales has slowed bewteen the fourth quarter of fiscal 2014 and the latest quarter, the first quarter of fiscal 2016.
If we chart the quarterly results, using the S1 numbers, we get this: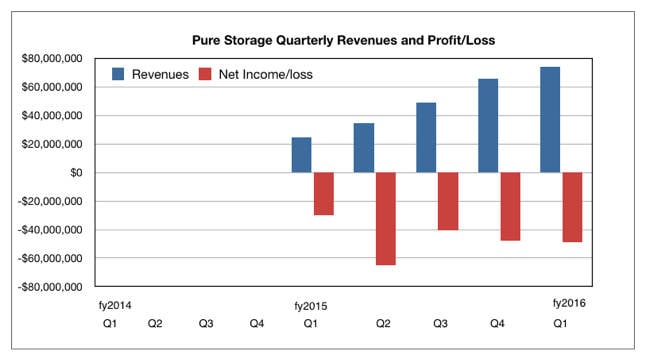 And if we chart the quarter-on-quarter revenue growth rate percentages, we get this: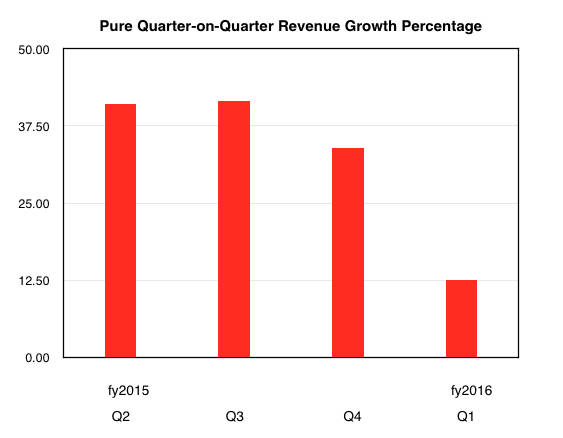 We see a worrying growth rate decline from the high thirties and low forties to just under 12.5 per cent in the latest reported quarter.
This is hardly impressive and suggests mainstream storage array vendors – such as Dell, EMC, HDS, HP and IBM – are taking most of the all-flash array business. Pure has to show that the doorway to its all-flash-array sales growth isn't being closed by its competitors.
Our assessment is that Pure will want to show one or two quarters of higher growth with a continuing decline in the ratio of costs to revenues, or at least no rise in the ratio, to convince investors that Pure's management has a grip on the company and can drive it to greatness.
If it succeeds then expect the IPO to happen around the middle of 2016. ®