OnePlus 2: Disappointing Second Album syndrome strikes again
A little too 'Shenzhen Generic' for its own good
Why the USB-C?
The OnePlus Two hardware looks good, and feels sturdy and well made. Bulked out with a hefty battery, it's heavier (175g) than its predecessor, while retaining 'real' navigation buttons which can be disabled, so you forget they're there.
The OP2 adds a hardware notifications with three states, but in practice, it can slip into 'Silent' a little to easy. The default OP2 also retains the sandpaper-effect back cover, making it less slippy than many other phones. You can buy attractive wooden covers from OnePlus for £20 a pop.
OnePlus has the Shenzhen Generic specs: 5.5-inch, 1080 HD display and 13MP camera. Like the One, it comes in 16GB and 64GB versions but there's no expansion or removable battery.
There's one glaring omission – NFC, which is required for contactless payments – and one dubious choice, USB-C. The latter means you won't be able to use the zillions of micro USB connectors lying around your home or workplace. And the supplied USB-C cable doesn't fit any regular USB plugs or ports, although it should.
USB-C supposedly makes the device "future proof" but no NFC means it's obsolete as it hits the street. What a pity, since the Two promises much: a top end dual LTE SIM with plenty of horsepower (including a that's-just-daft 4GB of RAM) for under £300.
Another omission, which isn't 'glaring' but which might be surprising, is the absence of fast charging: now common on flagships and very useful for rapid top-ups.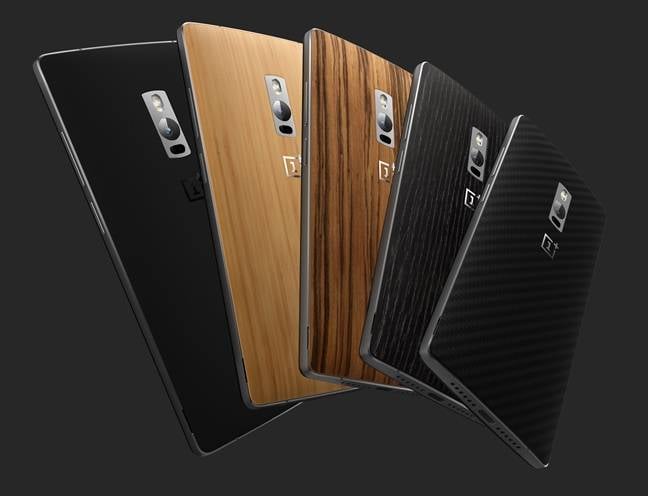 The major disappointment, and much follows from this, is that OnePlus no longer uses CyanogenMod. OnePlus lost a lawsuit in India from the aggressive, A16Z-backed company that is attempting to commercialise the CM open software, and decided to drop CM in all 35-odd territories in which it sells phones. Instead it uses a close-to-stock variant it grandly calls 'Oxygen OS'.
However, the hastily cobbled replacement is buggy and frustrating. Some (well, a few) readers long for "stock Android", and I can see why. But most ordinary users don't care religiously for stock Android, but want a decent unencumbered experience. Even when it's flawless, stock Android is a bossy and constraining experience: you can choose any quick settings buttons you want, as long as they're exactly the ones Google wants, in the order Google chooses.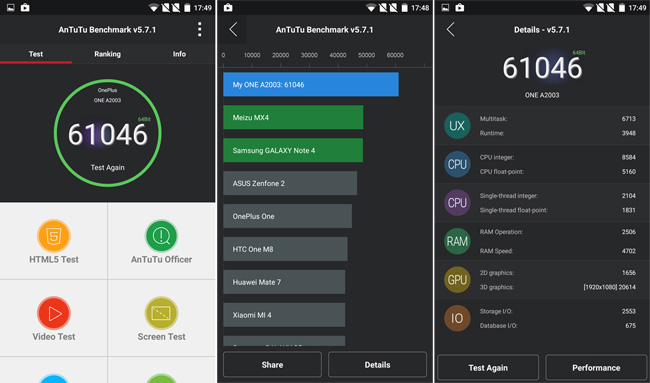 AnTuTu Benchmark (with 64 bit extensions). Click to enlarge.
Sponsored: Detecting cyber attacks as a small to medium business