UK in Frenchy cyber love-in to ward off 'information bomb'
Qu'est-ce que la bombe informatique?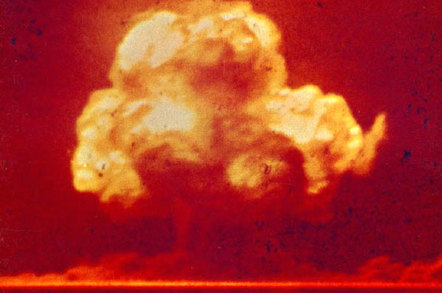 The UK's defence secretary Michael Fallon has announced a cyber love-in with the French to offset the threat of the "information bomb" – whatever that is.
Fallon was discussing the complexity of the cyber-threat, and the means "to urgently identify ways to safeguard against the threats" at France's first Cyber Defence Symposium.
He re-iterated the danger of Russia's use of cyber-campaigns in order to gain military advantage, and ISIL's use of it to radicalise individuals and spread misinformation.
He said Blighty's cyber-relationship with France is among "our most valued" and will help both nations improve defence of their military IT networks.
He added: "A hundred years ago we stood together on the frontline of a Great War; today we stand on the frontline of a virtual war, and although the warheads launched are invisible, cyber is far from a theoretical threat."
Fallon also said the French and the UK should share information and lessons on how to attract and train cyber-specialists, given the recent "information bomb" resulting in extensive levels of generalised information being made easily accessible.
He was referencing an article written by French philosopher Paul Virilio 20 years ago, entitled "Alerte dans le Cyberspace". The article said: "In the 21st century, the information bomb will necessitate a new social deterrence to ward off the destructive effects of the explosion of generalised information."
However, the release and speech failed to provide any further details of what it meant. ®