IBM: Hey, puny humans. Come stick your digits in Watson's AI brain
Big Blue spaffs out a load of APIs and dev tools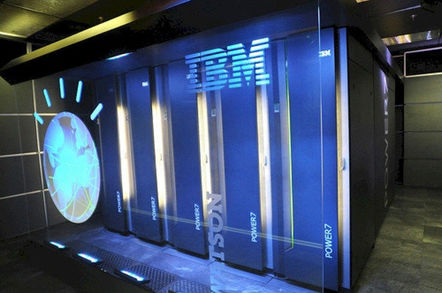 IBM is turning its puny-human crushing Watson AI brain over to developers for the first time.
Big Blue announced a new set of APIs and tools for code jockeys and business types interested in running its silicon brain on mobile and social apps on Wednesday. The release comes via the Watson Developer Cloud.
IBM also announced a new developer centre for Watson in San Francisco.
The push comes as part of a multi-year effort to turn Watson from a TV personality into something that brings home the bacon and establishes IBM in AI.
More than 100 partners, according to IBM, have released "cognitive-enabled" applications, products and services. The new API is designed to expand this.
IBM is making its first set of Watson developer tools available – tools it said would cut the time taken to combined the system's datasets and APIs in "any" form factor. Big Blue wants Watson to be used on mobile devices, cloud services and connected systems.
The company is also previewing IBM Watson Knowledge Studio, which it said makes Watson's machine learning and text analytics capabilities available in a single tool.
Watson is build using a variety of languages including Java and C++, running IBM's DeepQA software and Apache's Unstructured Information Management Architecture for content analytics. New, too, is Watson Visual Insights to build applications that provide insight into data gathered from social media images and video.
According to IBM, this API applies reasoning to the content of an image. Also, IBM has added the ability to create mobile apps using Japanese, Mandarin, Spanish and Brazilian Portuguese.
IBM has also updated the Watson Natural Language Classifier, Watson Dialog, Watson Retrieve and Rank and Watson Conceptual insights. ®