UK.gov wants a cloud wizard at £1,000 a DAY. That's more than the prime minister's salary
You shall not pass … on this opportunity, surely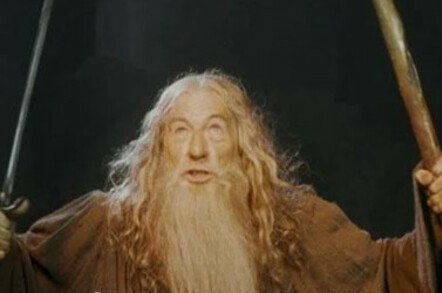 The government is hiring an IT cloud director at a cool £1,000 per day, for a bod proficient in Microsoft cloud systems – and just about every other form of enterprise IT.
The advert did not specify which department it was advertising for. However, at £1,000 per day over a six month period, that comes to a total of £150,000; significantly more than prime minister David Cameron's £142,000 annual salary.
The IT director will oversee the development, design, and implementation of new applications and changes to existing computer systems and software packages, it said.
Candidates must have proven knowledge and experience of operating within a Microsoft private cloud system system, it said. However, they should also have proven knowledge in non-Microsoft technologies, such as Agresso, Cisco core networking, NetApp Storage, and HP Blade Centre and Compute.
Oddly, the job spec does not ask for security clearance, which is usual for most large government departments.
One source commented that for the public sector the day rate for this role seems particularly high, with top end jobs usually around £600-£700 per day.
Recently HMRC also advertised for a 'cloud transformation director' for £162,000.
However, another source described it as a "nonsense" job.
"An IT director who is directing operations for infrastructure and also overseeing development and design, with detailed technical knowledge of a whole series of platforms from Microsoft to non-Microsoft? I would pay £1,000/day for someone who could do all of that," sniffed our source. ®
Sponsored: Webcast: Why you need managed detection and response