Strong dollar blamed for expected tech spend fall across all verticals
Major industries expected to splash $2.69trn in 2015, down 3.5%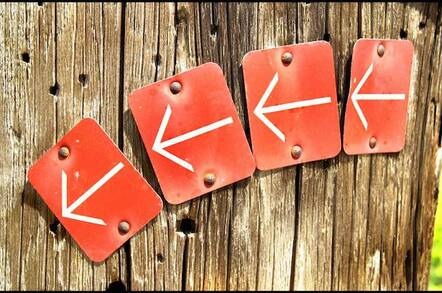 IT spending across every major vertical industry is set to shrink in 2015 and it's largely down to the relatively robust US dollar.
The weaker outlook from the beanies at Gartner has buyers splashing $2.699trn on tech this year, and if correct that will be a 3.5 per cent decline on 2014.
"Appreciation of the US dollar, along with the relative slowdown in emerging markets, [will have] had a double impact on IT spending in 2015 and explains the downward revision in the forecast," said Anurag Gupta, research veep
"Unsurprisingly, most technology firms reporting revenue in US dollars have taken a negative hit on their quarterly revenue earnings," he added.
The Euro, Yen and Ruble were hit hardest by the strengthening of the US currency, and the market slowdown was felt most acutely in China, Brazil and Russia, said Gartner.
All sectors – apart from the government vertical – reported spending spikes last year but are projected to contract this year, though given the volatility of the currencies, another correction seems likely.
The sectors that spend the most on IT, namely Banking & Securities and Manufacturing & Natural Resources, are expected to see their expenditure decline 2.4 and 3.6 per cent respectively to $486.2bn and $428.6bn.
There are pockets of growth in the financial sectors, though, as "banks grapple with growth and regulation issues, while battling new financial technology competitors". This may well lead to more money being splashed on Big Data and analytics tools.
Despite the gloomy prognosis for 2015, Gartner expects the move to digital and other tech initiatives to double banks' IT budgets through to 2019 – in mature economies, anyway.
See the forecasts for all industry sectors below.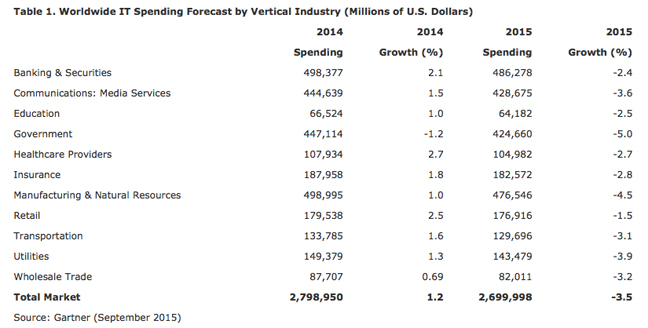 ®
Sponsored: Minds Mastering Machines - Call for papers now open