Homeland Security in CYBER POPE 'net chatter-check bulk up
Fanbois fit for FBI fixation if they fail to forgive as Feds find who's fingering Francis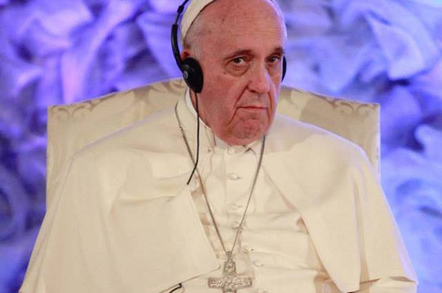 Pope Francis – who landed in the US on Tuesday to bring salvation to those suffering through Cupertino's malefic advertising – is the subject of considerable cybersecurity concern. We cannot say whether this is a coincidence or not.
According to Dave Weinstein, the deputy director of the New Jersey Office of Homeland Security, "significant resources have been allocated to review and investigate all cyber-threats" in preparation for the Supreme Pontiff's visit, reported New Jersey's 101.5 FM Radio.
Pope Francis, whose full title is His Holiness Francis, Bishop of Rome, Vicar of Jesus Christ, Successor of the Prince of the Apostles, Supreme Pontiff of the Universal Church, Primate of Italy, Archbishop and Metropolitan of the Roman Province, Sovereign of the Vatican City State, Servant of the servants of God, was blamed by UPS for stalled deliveries of iPhones in particular Manhattan ZIP codes this week.
A special unit dubbed the New Jersey Cyber Security and Communications Integration Cell is reported to be working around the clock monitoring the "chatter" surrounding the Pope's visit.
His Holiness is an enthusiastic tweeter, although whether he runs the account himself or delegates it to an aide is unclear. Syrian Electronic Army-style defacing of his Twitter account may be a possible threat. We understand security questions put to Pope Francis might request confirmation of his religion, alongside trivial enquiries such as the hygiene habits of mammals of the family Ursidae.
Weinstein said there was a lot of cyber-threat "noise", which posed a challenge to the unit's work in identifying legitimate threats.
"The best way to validate our sources is to communicate with our partners in the federal space, both in law enforcement and homeland security," he said. "It's a situation that requires a lot of collaboration between institutions public and private, and the more information sharing that goes on, the higher the probability that we'll be able to validate the validity and credibility of a particular threat."
Weinstein added that state Homeland Security personnel are "constantly sharing information" with the federal DHS and FBI.
"In many cases, particularly when it comes to ideological groups like ISIS, getting their message out is equally important as executing the actual cyber attack, and that's why there is so much increased chatter surrounding a high-profile event like the papal visit," he said. ®