Texan hotshot coughs to $4.5 million Bitcoin Ponzi scheme
Bitcoin Savings & Trust was neither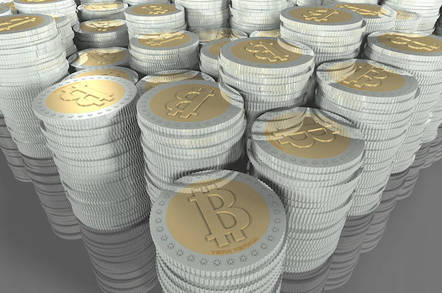 The owner of Bitcoin Savings and Trust (BTCS&T) has admitted running a Ponzi scheme that defrauded people of millions of dollars in the crypto-currency.
Texas resident Trendon Shavers, 33, has, in a deal with prosecutors, pleaded guilty to one count of securities fraud in a Manhattan federal court. He was cuffed and charged in July after running the scam in 2011 and 2012. As part of the deal, he has agreed not to appeal any sentence at or below 41 months in prison.
"Trendon Shavers has admitted that his high-yield Bitcoin investment program yielded high returns for himself rather than his investors," said US Attorney Preet Bharara.
"Instead of reaping gains, his investors were largely swindled out of their money in a cyber-age Ponzi scheme. Shavers now awaits sentencing for his crime."
Shavers set up BTCST just as interest in the e-currency was starting to kick off. He promised investors that he'd discovered arbitrage opportunities in Bitcoin markets, and offered returns of up to one per cent a day (annualized interest rate of 3,641 per cent a year, according to the Feds) in exchange for their cash, saying he would personally cover any losses incurred.
He converted his investors' money into BTC, and at one point held seven per cent of the Bitcoin market, but proved unsuccessful at trading them for a profit. Instead, he used money from new investors to pay off old ones, and siphoned off $165,000 for himself.
According to UT financial watchdog the SEC, Shavers held Bitcoins worth $4.5m at the time – if he still had them now they would be worth about $60m. We're told 48 of the 100 investors contacted by the SEC lost some or all of their original stake.
After being arrested, Shavers attempted to beat the rap by claiming Bitcoin wasn't real money, and thus he couldn't be charged with securities fraud. A judge disagreed, and he has now copped a plea deal.
While this arrangement means he's unlikely to get a full 20-year sentence, Shavers has other problems. A separate civil court case in Texas that he lost fined him $150,000, along with $40 million in disgorgement and prejudgment interest, for the scheme. ®
Sponsored: Practical tips for Office 365 tenant-to-tenant migration