Samsung sneaks out its TRIM, SMART SSD model – using 3D Magic
SATA's shunted sideways. Move over for NVMe M.2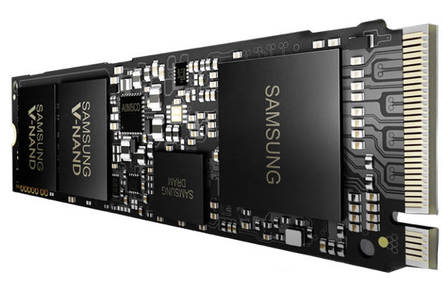 A new, thinner and faster SSD from Samsung, using the M.2 form factor, is hitting the retail market next month.
Sammy has taken its 850 PRO SSD with its 2.5-inch form factor and SATA interface and implemented the same 3D V-NAND 32-layer MLC flash in a smaller PCIe M.2 2280 form factor, and given it an NVMe driver.
The result is a physically smaller and much faster SSD with limited capacity due to the M.2 card's smaller surface area. It comes in 256GB and 512GB capacity points, whereas the 850 PRO goes up to 2TB.
The 512GB 950 PRO is 4.5 times faster in sequential reads and 2.5 times faster at sequential writes than the 512GB 850 PRO SSD. It's also less greedy power-wise. In standby mode, the 950 PRO 512GB consumes 2.0 milliwatts (mW) of power, less than half that needed by the SATA 850 PRO 512 in Device Sleep Mode.

Comparison table for 850 PRO and EVO SSDs and 950 PRO SSD
The headline IOPS numbers show the M.2 512GB card runs at 300,000 random 4K IOPS while the 850 PRO is left well behind at 100,000 IOPS. The random write IOPS difference is less; 90,000 for the 850 PRO compared with 110,000 for the 950 PRO.
The endurance has improved; a 500GB 850 PRO has a 300TB written (TBW) rating over its warranted life but the 950 PRO goes on further, to 400 TBW. There is a similar improvement at the 256GB capacity level too, with the 850 PRO's 150TBW being improved to 200 TBW by the 950 PRO.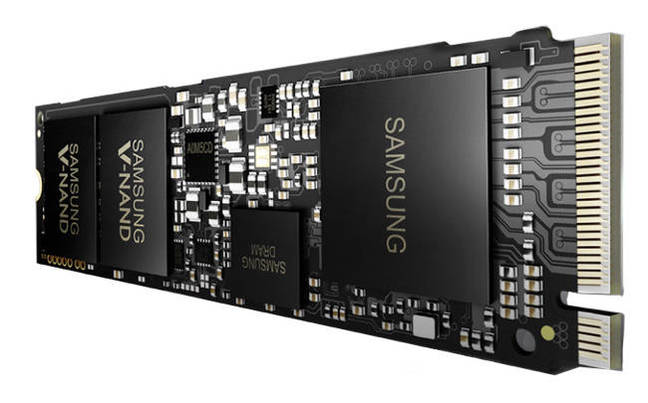 Samsung 950 PRO SSD
The performance is similar to Sammy's OEM M.2 flash card, the SM951 NVMe product with its 128GB, 256GB and 512GB capacities.
300,000 random read 4K IOPS
100,000 random write 4K IOPS
2.26GB/sec sequential read bandwidth
1.6GB/sec sequential write speed
Samsung said the 950 PRO has Dynamic Thermal Throttling (DTT) technology to control its temperature so as to reduce overheating and maintain its performance. It has TRIM and SMART functionality plus AES 256-bit encryption.
We wonder about the possibility of a 950 EVO, with TLC NAND slowing data access a little but increasing capacity by 50 per cent theoretically. We should see 48-layer V-NAND next year, which could mean 1TB 950 PROs appearing, with SM951s having similar capacities for OEMs.
Get 950 PRO specs here.
It will be available in October with an MSRP of $199.99 for 256GB and $349.99 for 512GB and plug into NVMe/M.2 2280 form factor-supporting motherboards. ®