Indianapolis man paints his ball every day – for FORTY YEARS
Painter has only got one ball, but it could almost fill the Albert Hall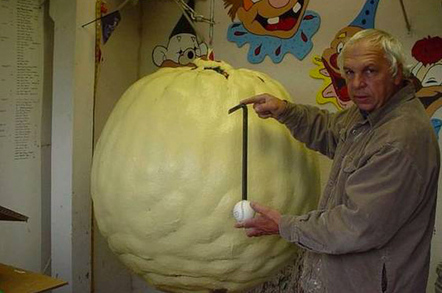 Some men are born great, some have greatness thrust upon them and others achieve greatness by painting a baseball every day for four decades until it weighs 5,000 pounds.
Mike Carmichael from Indianapolis embarked on the journey that would become his life's work when he first slapped a coat of blue paint on the ball in 1977.
Fast forward nearly forty years and the ball now measures 14 feet around and is recorded in the Guinness Book of World Records.
"I was always doing something weird, so I wanted something different to do," said the soft-spoken, self-employed painter. "We had no idea it was going to get this big, this popular or this heavy," Carmichael told Reuters.
Carmichael keeps the ball in a custom-built structure on his property in Alexandria, which reportedly attracts 1,200 visitors a year.
The ball hangs from the ceiling with heavy chains and an industrial hook. A mirror beneath it ensures the painter does not miss a spot, reported Reuters.
According to the report, the set-up can hold 11,500 pounds, which means his work will continue for some time. ®