Ex-HP boss and US prez wannabe Carly sings about her dog on TV
Fiorina reaching out to the public, one cringe at a time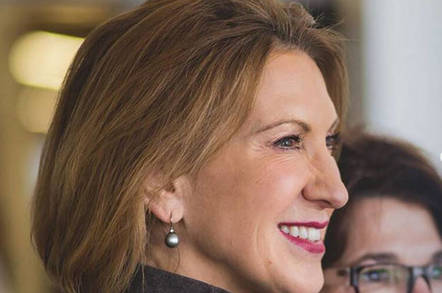 Former HP boss and Republican presidential candidate Carly Fiorina has tried a new tactic to reach out to the American public – singing about her pet dog on the telly.
In an interview with Jimmy Fallon on The Tonight Show, Fiorina grabbed the mic and treated the audience to a song about her dog to the tune of Rock around the Clock.
"I make up songs up all the time," she told Fallon. "Want me to hum a bar or two?"
Fallon replied: "You don't have to do any of this." But Fiorina was obviously taken by the idea.
"OK, well let's see. This is a song in four verses, but I'll just give you the first one." Giving her one more chance, Fallon replied "Are you sure?" before she cut in to sing the ditty about her dog Snickers.
"My name's Snick, and I'm lazy. I'd rather lie right down here instead. I want to lay right down in my nice warm bed. My name's Snick and you're going to have to carry me."
Carly Fiorina sings about lazy dog Snickers on Jimmy Fallon
Fiorina will be most well-known to Register readers for presiding over a $24.2bn merger with Compaq. She resigned from the chief exec post in 2005 after clashing with the company's board over "differences about how to execute HP's strategy".
After announcing her intention to stand for the Republican candidacy, in May an unknown wag got in there first with the carlyfiorina.org domain name.
"Carly Fiorina failed to register this domain," the site read. "So I'm using it to tell you how many people she laid off at Hewlett-Packard."
The page then proceeds to display 30,000 frowning emoticons, with a note at the bottom reading "that's 30,000 people she laid off. People with families." ®
Sponsored: Minds Mastering Machines - Call for papers now open