EE is UK's biggest loser on customer broadband gripes – AGAIN
Hapless network receives yet another roasting from angry Ofcom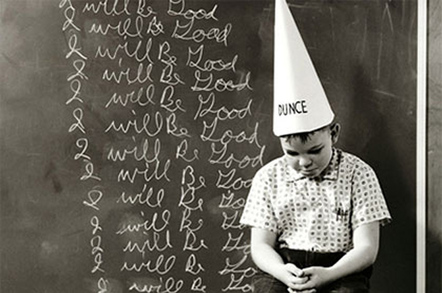 EE's dreadful record drags on, with the mobile carrier once again bagging the top spot for the most broadband customer complaints in the UK.
Subscribers moaned about a range of problems with the provider's service, including faults, billing, pricing and charges, according to Ofcom's latest quarterly report.
The regulator said:
EE also generated the most complaints for broadband as a proportion of its customer base during the second quarter of this year.


However, its complaints volume did decrease from 0.51 per 1,000 customers in Q1 2015 to 0.45 in Q2 2015.
But those gripes far outstripped its nearest rival for worst broadband customer service among the big ISPs in Blighty.
TalkTalk's complaints volume stood at 0.27 per 1,000 broadband customers during the period from April to June this year.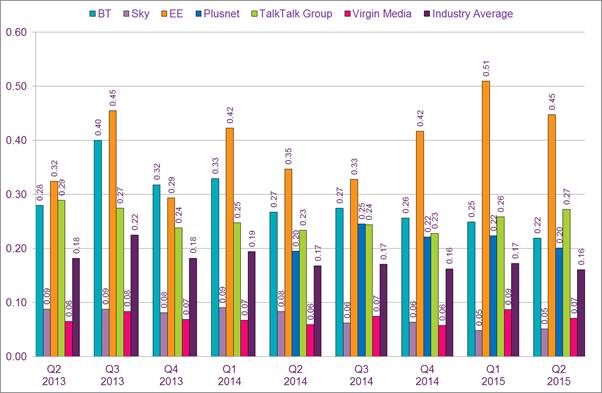 EE continues to make every other ISP look good. Image credit: Ofcom
EE also turned in the most lacklustre performance for its landline service, notching up the highest volume of protests (0.34 per 1,000 customers) from its subscribers.
The biggest complaint about EE's landline service related to problems changing provider, Ofcom said.
EE can at least take comfort from Vodafone. The rival operator generated the most complaints from pay-monthly mobile customers for the third quarter in a row.
"While it's encouraging to see a continued decrease in the total number of complaints, there is still room for improvement," said the communications watchdog's consumer director, Claudio Pollack. "We expect providers to make customer service and complaints handling top priorities."
Last week, EE admitted its broadband service simply wasn't good enough and vowed to get its act together.
Ofcom whacked EE with a £1m fine in July for failing to comply with the regulator's rules on handling customer complaints. ®