NetApp gets a new CTO – after saying it wouldn't get a new CTO
George Kurian stepping upstairs means bye-bye Jay Kidd, hello Mark Bregman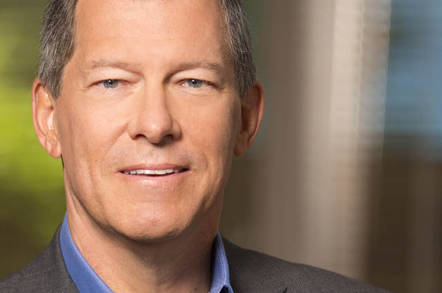 NetApp has recruited an ex-Symantec CTO to be its new CTO, replacing the retired Jay Kidd.
Mark Bregman was CTO and an EVP at Symantec from July 2005 to August 2011, and held the same titles at Veritas from September 2004 to July 2005, being Veritas EVP Product Operations from February 2002 to September 2004.
He was with IBM from 1989 to July 2000, working in semiconductors, then managed the RS/6000 division, followed by the Pervasive Computing division. He was CEO at wireless internet startup AirMedia between leaving IBM and joining Veritas.
We learn that "in the aftermath of the 9/11 tragedy it was impossible to fund a New York City-based early stage startup and [AirMedia] was shut down in late 2001."
Most recently, Bregman was CTO of machine-learning start-up SkywriterRX Inc, where he currently serves as a board member and an advisor.
NetApp stated: "Bregman leads the company's portfolio strategy and innovation agenda in support of the Data Fabric, NetApp's vision for the future of data management. His responsibilities include evaluating where the biggest technical opportunities and risks are and helping to set and maintain a culture of innovation within NetApp's engineering team."
He will work with NetApp's Advanced Technology Group, "anticipating and capitalising on new and emerging trends".
We're told Bregman is dedicated to addressing the under-representation of women in the fields of computer science and engineering. He has served as executive sponsor and an engaged member of the Women in Technology programmes at all of his previous places of employment.
At the time of Kidd's retirement, NetApp had no immediate plans to recruit a fresh CTO. However, following George Kurian's assumption of the CEO slot at Sunnyvale, that situation has changed.
Storage software is becoming more important at NetApp. What could be fascinating here is seeing whether the Data Fabric will evolve to manage access to much more than NetApp storage, whether NetApp will develop it to become a storage silo-melding virtualisation layer – in the style of Primary Data's Data Sphere, say. It could become a blanket layer above ONTAP, the E-Series, StorageGRID and AltaVault.
But maybe we will begin to see this data fabric not just accessing and moving NetApp-stored data between on-premises and the cloud, but also heterogeneous on-premises and cloud data on tap. ®