Undergrad cluster wrangling warriors: Vid chats with the teams
Smooth sailing and near READ ME disaster averted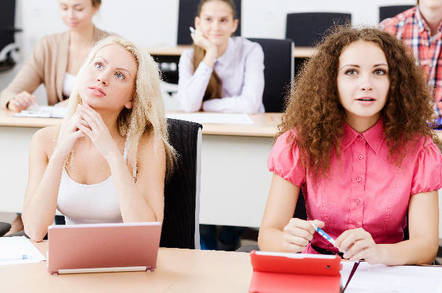 HPC Blog Rounding out the field for the ISC 2015 Student Cluster Competition, below is an introduction to the two teams we haven't profiled yet. For previous Reg coverage, refer to this, this, and this.
Team Purdue/EAFIT: 'Solid team, smooth sailing' yeah, we've heard that before
A quick interview with team Purdue/EAFIT reveals, well, not all that much. According to the team lead, the students are working well together and pounding out the results.
Their strategy is to run each application once to get an initial result that can be turned in for scoring, then attack the apps looking to optimize results.
It's a good strategy, assuming they pull it off. One of the biggest problems teams run into in these competitions is spending too much time optimizing an app, then not being able to turn in a valid result when the sands of the hourglass run out. Score-wise, it's far better to turn in even mediocre results for all of the apps rather than just a few great results.
Team South Africa: READ ME file disaster averted, scapegoat scraped
It was fun ratcheting up the pressure on defending TWO time champion Team South Africa. While the team, sponsored by the South African Centre for High Performance Computing (CHPC), has taken the Overall Championship award for the past two years, it has always been with kids who are entirely new to the competition. This is part of their policy of spreading HPC knowledge throughout their academic community as quickly as possible.
So far in the competition, the team is doing well and pushing out good results for PyFR and Octopus. The video takes a different turn at the 2:50 mark when team member Paul was publicly called out for a "reading comprehension problem."
As it turns out, the issue wasn't reading comprehension, it was much more a "failure to read" problem. Our pal Paul did not read a READ ME file, which caused some significant problems for the team and amused me to no end. Check out the video to see the details...
Next up we'll check in with the students before the end of the competition, then reveal the results for the Highest LINPACK Award, the Fan Favorite Award, and of course, the Overall Champion Award. ®
Sponsored: Detecting cyber attacks as a small to medium business