Australia's NBN gets a new minister: Mitch Fifield
The successor to the World's Greatest Luddite is now a successor to the World's Greatest Luddite
The communications portfolio that Malcolm Turnbull vacated to become Australia's prime minister seems to have been downgraded.
Communications has had "and the Arts" returned to it, after a brief and disastrous period with attorney-general George Brandis, and the bouquet has been wrapped up and handed to new minister Mitch Fifield.
The ministry also loses its former status as warranting a second hand at the tiller, with Paul Fletcher (formerly minister assisting Turnbull) elevated to a new portfolio, and no replacement in the communications ministry.
Fifield's previous role was as assistant minister for social services, making him chiefly the carrier of bad news when government initiatives in the disability sector went wrong.
Fifield arrived in Canberra as an appointee to fill a casual Senate vacancy in Victoria in 2004, and in a glorious and hopefully-not-ominous coincidence, his appointment was occasioned by the departure of the World's Greatest Luddite, Richard Alston, from the upper house.
Hence, the person that succeeded Alston in his Senate seat has now followed Alston into his ministry.
The prime minister has decided, however, that his Digital Transformation Office is too precious an orchid to be entrusted to new hands, and is taking that responsibility to the Department of Prime Minister and Cabinet. Fifield will be minister assisting the PM for digital government.
In other ministries of interest to readers of Vulture South, South Australian senator Chris Pyne has been moved from the education portfolio to a reinstated science brief called "Industry, Innovation and Science".
The Register is sure that as innovation minister, Pyne will bring the same skills as delivered Australia's STEM education curriculum ... oh, wait.
George Brandis retains the office of Attorney-General, meaning there's not much chance that his pet projects, like data retention or Internet filtering, will be abandoned.
+Opinion: The change of leadership was rapturously welcomed by people who firmly believe that Malcolm Turnbull is a tech-sector sympathiser. He has an iWatch, and in his speech accepting the office used the words "agile government".
Two national newspapers solemnly opined that the new prime minister wants innovation to drive the country's economic recovery, which is just silly.
No matter what new prime minister Malcolm Turnbull says or does, Australia is not on the cusp of a start-up-led economic recovery.
Properly conceived and sensibly executed, a tech-sector strategy would be a long-term benefit to Australia, but it cannot repair the damage of the last couple of years, reverse the slide into higher unemployment, or give the prime minister a mending economy to take to the next election.
Let's imagine that Turnbull had a strategy so wildly successful that he could double the number of people employed in Australian startups in a mere six months (so as to ensure he could announce success ahead of an election).
If we take the optimistic study conducted by PwC for Google in 2013 here, the most optimistic interpretation of this curve is that there are fewer than 50,000 people employed in the start-up sector.
Now, here's the "error bars" for the most recent Australian Bureau of Statistics labour force data: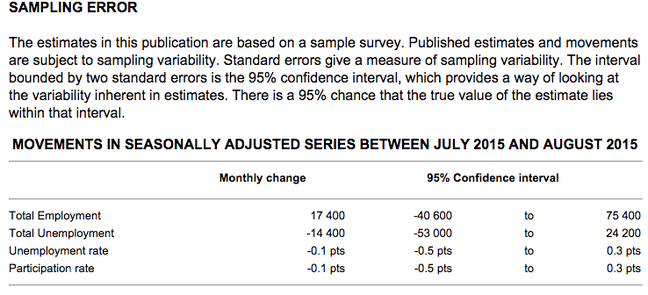 The possible error margin is more than 75,000 unemployed.
Ignoring that and taking headline unemployment numbers at face value, if a Startup Renaissance generated 50,000 new jobs apart from any other change in the economy, its net influence on unemployment would be less than 0.5 per cent.
So as a short-term strategy – The Australian and The Australian Financial Review both call it Turnbull's "vision" for fixing the economy, although neither have anything to offer by way of what the vision may entail – start-up support sucks.
The other point to make is that tomorrow's tech businesses don't exist in a vacuum. The food they eat is science, and that's been slashed under this government. The staff they want need to be educated, and education has also been slashed under this government.
The ecosystem is lacking, and that can't be conjured out of thin air. ®
Sponsored: Becoming a Pragmatic Security Leader