D-round VC ReRAM cash comes crashing down on Crossbar
Close, so close to getting its ReRAM afloat before Intel and Micron barge in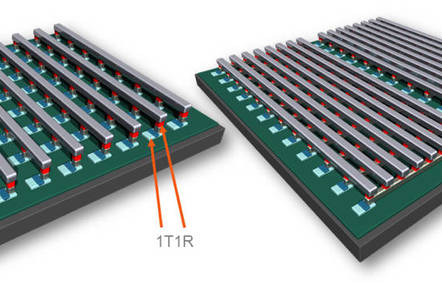 Resistive RAM memory tech startup Crossbar has snagged $35m in D-round funding to push the commercial ramp of its non-volatile memory (NVM) technology.
Hong Kong-based Tyche Partners, China-based Oriza Holdings and unknown and possibly Hong Kong-based VC Cheerful Link joined all of Crossbar's existing investors in the round, bringing total investment to $85m to date.
Crossbar co-founder and CEO George Minassian said: "Crossbar RRAM has been enthusiastically embraced as the leading contender to replace aging non-volatile memory, due to its manufacturability and scalability for a broad variety of applications. This latest round of funding will enable us to take the next crucial steps in bringing our technology to market."
We rather think Intel/Micron's CrossPoint memory (XPoint) is in pole position in that race now.
But Crossbar's original investors have decided to pump in more cash, along with new investors, following last year's $25m C-round.
The new investors may help Crossbar penetrate the Chinese market.
The Crosspoint-competing Crossbar "is currently working with beta customers for its embedded memory solution, targeted for production in 2016".
The company said it "continues to achieve important technical milestones to bring to market its very high-capacity standalone memory – enabling a terabyte of data to be stored on a chip the size of a postage stamp".
Yes indeed, a 1TB chip would be pretty good going. But can Crossbar and its partners get the damn thing produced and sellable before the massed ranks of the forming Intel/Micron XPoint ecosystem flood the market with their resistive RAM tech?
This D-round looks like a necessary means for Crossbar to accelerate its tech commercialisation efforts and get its non-volatile memory chips out there before XPoint potentially starts closing doors. ®
Sponsored: From CDO to CEO