Invicta IT to vendors: 'Put us in the bucket... of ones to watch'
Firm grabs Insight senior account heads, eyes up sales glory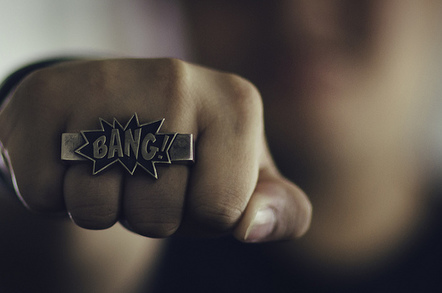 Reseller minnow Invicta IT has hired a raft of heavy-hitting - and no doubt expensive - sales account managers from Insight Enterprises as it eyes up moving into the bigger leagues.
The Slough-based HP, Cisco and NetApp seller recruited ex-Insight corporate sales director Gary Remmington as sales director on 1 April and he in turn attracted more heads to move over.
Since June, seven senior account handlers at Insight have moved to Invitca IT, including Ben Cook, Andy Munn, Kuljeet Chawla, Wade van Eyssen, Zakir Ali, Colm Martin. Just this month Dianna Yeates was added to the payroll.
"We are not specifically targeting Insight," said Michel Jacobs, CEO at Invicta IT, "but our sales director worked there, a lot of these people reported to him and I've given him autonomy to grow the business."
Jacobs bought out long-term partner Clifford Fox in March this year - the duo co-founded the firm in 2002. He said the pair had a difference of opinion over the "desire" to get to the "next level".
"We want to take the business to £50m in three years and £100m in five years. When we meet distributors and vendors we are asking them to put us in the bucket of the ones to watch."
In the year to 31 March 2015, the company turned over £12m, up from £10m in the prior fiscal.
A 54 per cent dive in distribution costs to £143k beefed up operating income to £468k from £263k. Invicta, like Softcat, runs a light model by outsourcing inventory handling to distributors.
Jacobs said the company needs a "fair wind" and to "win some large accounts", and is still in recruitment mode for sales people.
The company looks to have taken on some serious costs, estimated to be circa £500k so their profits will likely be stretched to capacity, and this could impact credit rating if the bottom line or cash flow declines.
Jacobs told us the headcount bounce was "calculated", and he has a team of accountants on board that crunched the numbers.
As it stands, hardware reselling accounts for 60 per cent of turnover, software some 20 per cent and the same again for managed and break fix services.
Like all other resellers, or "solutions providers" as Jacobs preferred to refer to his company, Invicta IT sees the business being built on recurring revenues. Getting there is easier said than done. ®
Sponsored: Minds Mastering Machines - Call for papers now open