The 'vampire squid' wants a bankers' blockchain
Plutocrats look at Bitcoin technology as a distributed trade ledger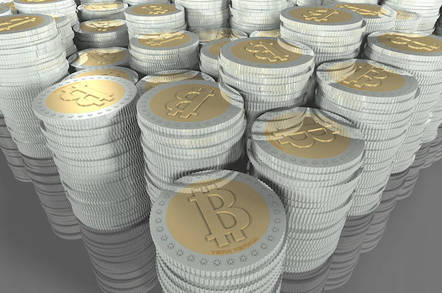 Whether Bitcoin is an existential threat to the world of currency and banking probably depends on the style of tinfoil hat you wear, but the "Vampire Squid" - Rolling Stone's name for investment merchant bank Goldman Sachs - isn't taking any chances.
Goldman and several of the most moneyed moguls the world has to offer the world's largest financial concerns have joined arms to sing The Internationale and create its own blockchain.
Their idea is that a blockchain – whether Bitcoin's or some other – could be used as a post-trade record-of-transaction and settlement ledger.
Announced to Reuters here, the tie-up also includes Barclays, JP Morgan, State Street, UBS, Royal Bank of Scotland, Credit Suisse, BBVA and Commonwealth Bank of Australia.
The cartelBanking's best and brightest have spent the past year working with financial technology outfit R3 on the idea, Reuters says, and the project will be led by R3's CEO David Rutter.
Rutter was CEO of electronic trading at ICAP Electronic Trading from 2004 to 2012.
The idea of a blockchain, which serves as an encrypted, distributed ledger to record transactions, was one of the key innovations to come from the fertile but still-anonymous mind of Satoshi Nakamoto, inventor of Bitcoin.
It's perhaps no coincidence that the bankers have chosen to go public with their plans now: concerns are emerging that the way Bitcoin is built, blockchain transactions are swelling beyond what can easily be distributed.
As Gavin Andresen, author of the BitcoinXT fork, told MIT Review in August, the seven-transactions-per-second limit means Bitcoin could run into trouble as early as next year.
The group of bankers hasn't yet settled on whether it will try to co-opt the Bitcoin blockchain into their proposal or use some other technology (Reuters name-checks a blockchain being developed by Ethereum, for example). ®