PernixData offers dollops of free software … you'll upgrade later, ya will, ya will
Containerised element still looks a bit wonky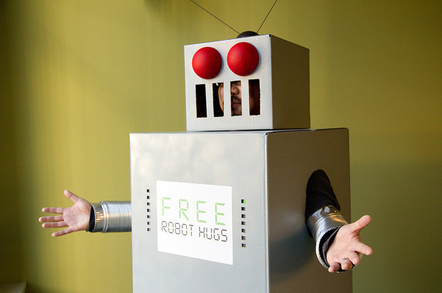 PernixData, the distributed ESXi hypervisor cacher, has announced three new developments: FVP 3, a FVP free option, and a VM management tool called Architect to optimise storage IO.
FVP 3.0 provides vSphere 6.0 support, an HTML5-based user interface, and adds Pernix Plus, anonymised data collection from customers' systems to help Pernix improve its products.
There is now a no-charge version of FVP called FVP Freedom, with unlimited host and VM numbers and write-through acceleration using memory.
It is limited in its use by not supporting SSDs, having no write-back feature, and is restricted to a 128GB DRAM cache size in a server cluster. The idea is to encourage new customers to try out Pernix for free and then, hopefully, some will upgrade to the full product.
Architect
Architect is a brand new product. Product veep Bala Narasimhan said server virtualisation breaks storage management with a gap between server/VM management tools and storage management, with the latter lacking VM-awareness.
Architect fixes that by bridging the gap and being VM-aware. It is intended to collect VM storage IO statistics, analyse thus data and use it for planning, operations and support.
Architect reports can identify read and write IO proportions, and block sizes and latency trends at VM, host and cluster levels. This can help to determine what kind of IO acceleration is needed. It has predictive analytics to help size storage media for performance and capacity, with average working set size estimates, for reads and writes per host, for example.
Narasimhan said it augments VMware's own vRealize software and doesn't compete with it.
David Blesovsky, sales director at Pernix customer Cloudhelix, said he would like Architect to feed its data, via an API link, to his existing management tools, and not be a separate management silo/pane of glass.
Architect is a software module that runs in ESXi and integrates with vCentre. It will be generally available by the end of the year. Check out beta testing here.
PernixData growth
"PernixData FVP software has taken the storage world by storm with over 500 customers and 300,000 VMs optimised in just two short years of shipping," said Poojan Kumar, CEO and co-founder, PernixData.
"But we won't rest until FVP is installed on all of the millions of virtualised servers throughout the world," he added.
At an event in London, Pernix execs said the company had passed the 630 reseller count; which, by our reckoning, and with 500 customers, means 130 of its resellers haven't sold a single Pernix product. Ian Wells, Pernix senior director, EMEA, mentioned that some kind of reseller ranking scheme was likely, which would seem overdue.
Also, as VMware says it has more than 500,000 vSphere customers, this means Pernix has penetrated just a tiny percentage of the vSphere customer base, not a lot for a product that is claiming to lower VM storage costs by 95 per cent.
It's clearly not a Veeam-type product. Wells, who joined Pernix from Veeam, said Veeam was SMB-focussed, whereas Oernix was not, being more like a steady-burn Veritas-type product. Wells also said Pernix has earned 50 per cent more revenue than any other software infrastructure company in its first year.
We know Pernix laid off inside sales staff a month ago, and its worldwide sales veep quit, suggestive of revenues not meeting targets.
Now we have FVP Freedom to spread FVP use via a community support model.
It could be that Pernix products have a pricing problem and customers are reluctant to buy because of this. Consultant Chris Evans of Langton Blue talked of $60,000 pricing quotes, and said this level of cost provides quite a hurdle to get over.
Evans also said he didn't understand what benefits Pernix could offer to customers who adopt containerised servers. The software primarily solves the data access latency delay imposed by external disk drive arrays and has less relevance when data is stored on al-flash arrays or in hyperconverged infrastructure appliances (HCIAs).
There Architect, for example, needs to understand how storage is split between the various component servers, and which VMs access local storage on "their" server and which go for storage on other servers in the HCIA virtual SAN.
Any storage using NVMe fabric links to servers would also reduce the advantages of using Pernix' FVP product. Pernix, Evans said, needs a strategy to cope with its main VM-acceleration market shrinking through containerisation and through flash storage moving closer to servers. ®