Asus ZenBook UX305: With Windows 10, it suddenly makes perfect sense
Giving the MacBook Air a run for its money
Charge of the light brigade
Graphics are handled by the integrated Intel HD Graphics 5300 engine. Now Intel's integrated graphics chips are nowhere near as awful as they used to be but the 3DMark Cloud Gate 1.1 benchmark score of 2,987 means you won't be playing any cutting edge AAA games.
The UX305 can still run good old Crysis at full screen and 1600 x 900 resolution though. And if gaming on an skinny laptop really is your desire Intel has compiled a handy list of other titles that shouldn't tax the UX305 too much.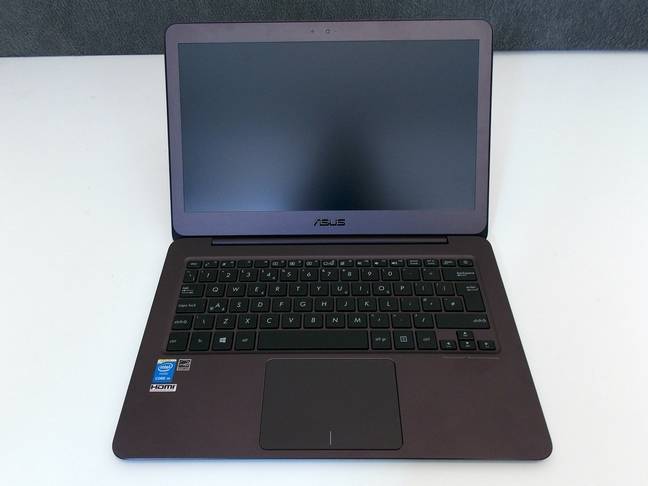 The Asus' 13.3-inch screen boasts a resolution of 1920 x 1080. Matte finish makes for a strong performance outdoors
One thing that rather disappoints was sound quality. It's not that it's actually bad, there's a decent amount of volume, but there's a lack of punch from the stereo speakers buried in the underside. From a machine with Bang & Olufsen ICEpower written on it I expected more than average, which is basically what you get.
Storage is taken care of by a 128GB SanDisk SSD. With average write speeds of 301MB/s and read speeds of 446MB/s it's up to snuff for a PCIe component and again acceptable at this sort of price point.
Run PCMark8 in a loop and the UX305's 45WHr battery will drain in six and a half hours. I was pretty impressed by that ... and by the ten hours and thirty minutes it managed to loop a 1080p MP4 video using VLC with the brightness set at 75 per cent.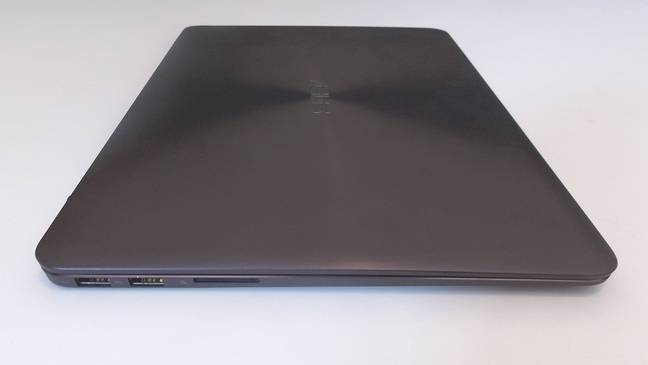 With three USB 3.0 ports, the UX305 has the MacBook Air well beaten. No Ethernet but Asus does bundle a USB adaptor
To help eke a little more life from the battery you can use the HD Graphics Control Panel to switch off anti-aliasing, or adjust display power consumption profiles between performance, balanced, quality or custom.
At about this time in the review many of you will be wanting to know if you can take the UX305 apart to swap out components. The 128GB hard drive is probably top of the list. Remove a dozen torx screws and the front part of the back plate comes away cleanly but the edge next to the hinge refused to budge.
On a final note the UX305 booted into 64-bit Ubuntu with no problems at all (OK, one small gremlin, the function screen brightness buttons stopped working but I'm guessing a fix for that isn't beyond the wit of man) making this a prime candidate for anyone wanting a Linux Ultrabook. If that isn't a contradiction in terms.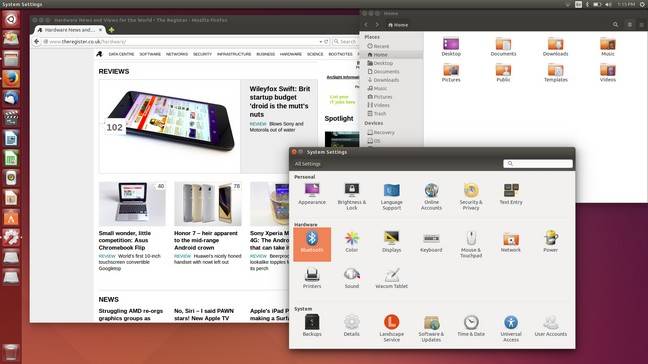 The UX305 makes the perfect Linux Ultrabook. Runs Ubuntu nigh on faultlessly
The Reg Verdict
Asus is pitching the UX305 as a Windows competitor to the admittedly more powerful MacBook Air. And it's done a good job. The Asus machine is cheaper, slimmer, lighter, more stylish and has more in the way of ports. Even if you set those qualities at nought the impressive display and even more impressive battery life make it worth serious consideration. And now that Windows 10 has ousted 8/8.1 it no longer feels like it ought to have a touchscreen.
Sponsored: Webcast: Why you need managed detection and response

Asus ZenBook UX305: With Windows 10, it suddenly makes perfect sense
Linux-friendly superlight 1.2Kg, 12.3mm thick laptop with a 128GB SSD, 13.3-inch 1080 x 1920 display, Intel Core M processor, 8GB of RAM and stylish aluminium body running Windows 10.