Deluded Aussie geeks hail Turnbull's elevation to prime minister
You still won't get a fibre-to-the-premises NBN back, but startup-land can smile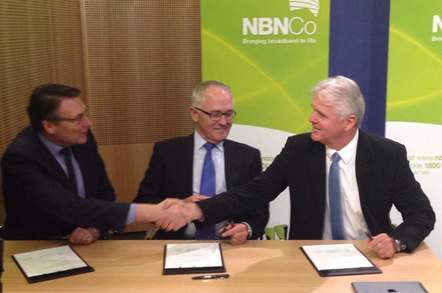 With the elevation of communications minister Malcolm Turnbull to the office of prime minister, Australian tech-types are drying their tears and looking forward to a future in which he changes gear so that the country will get its all-fibre National Broadband Network (NBN) at last.
Forget it: it's never going to happen.
It may be that at some point, nbnTM decides a handful of locations can somehow warrant fibre upgrades – Vulture South would imagine that business zones will look attractive, for example – but the fibre NBN is dead and buried, for a great many reasons.
The first reason: the multi-technology model architecture was not conceived by Tony Abbott, but Malcolm Turnbull, who copied it from the "NBN Mark I" architecture that preceded the Stephen Conroy/Kevin Rudd fibre-to-the-premises (FTTP) model.
Those with long memories will recall why fibre-to-the-node (FTTN) was binned the first time around: incumbent Telstra, under the pugilistic leadership of Solomon Trujillo, made it clear it would fight every step of an FTTN deployment.
Copper shapes policy, then as now
Its key weapon? The copper.
Telstra offered the then-government an unpalatable choice: either give it a regulatory holiday (that is, freedom from competition) and it would build FTTN with government subsidy; or it would fight government policy every step of the way.
Which leads me to the second reason that there'll be no reversal to FTTN: to create the multi-technology model he crafted for Tony Abbott, Turnbull also engineered the transfer of Telstra's copper to nbnTM, along with the hybrid fibre-coax cable TV network infrastructure (the only thing that will get Turnbull anywhere near a decent footprint by 2016).
That deal can't be unpicked again: to do so would mean yet-another twelve-month delay, and could easily fail. At the very least, it would mean tipping even more money into Telstra's coffers, in a project that's increasingly a financial embarrassment to the government.
The future
Fibre enthusiasts (of which I am one, but I'm also a realist) would also do well to remember Turnbull's repeated faith that the future is wireless (which it is, to an extent, but even wireless networks fill up fast if they don't have fibre going anywhere), and his repeated assertions that the future of fixed networks lies in technologies like G.Fast and DOCSIS 3.1 (the latter, amusingly, already has a roadmap to FTTP).
The best that Turnbull can hope for the NBN is that there are no other surprises lurking either in the rollout or the financials, so that his model brings no more ghosts back to haunt him as prime minister.
Even in terms of concrete non-NBN initiatives in his portfolio, the jury's still out. His highest-profile achievement, the Digital Transformation Office, is still embryonic, and as we've previously observed, Turnbull has been rolled on key policies like metadata retention and ISPs' role in fighting piracy.
The best the tech sector can hope for is that at least some of Turnbull's technology policies – his enthusiasm for startups, his belief that we need better education to support technology – shape his thinking.
And for any other major policy, we'll just have to wait and see who is the next communications minister, and hope that the portfolio doesn't return to being the graveyard that typified nearly every minister before Stephen Conroy.
But FTTP? It's dead and buried, in a Telstra duct with corroding copper and an asbestos pit at the end. ®