Apple fanbois cry (bless) as site motionless during iPhone 6S pre-order wrest
Tim Cookin' up success!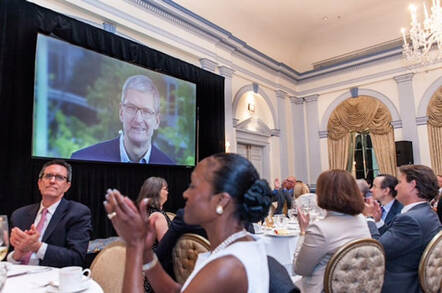 Apple suffered website woes overnight – just as its iPhone 6S and iPhone 6S Plus were meant to be available for fanbois to pre-order online.
The multinational's site was spewing out unfriendly error messages, instead of the sunny, life-affirming sort of stuff that we've all come to love from Cupertino chief Tim Cook.
Friday night, 9.45pm Pacific Time, http://t.co/eaoHX5cQEg - think different (when it comes to uptime) pic.twitter.com/hodsNwRsBR

— The Register (@TheRegister) September 12, 2015
iPhone 6S and 6S Plus available to order at midnight PT. http://t.co/eaoHX5cQEg is down. We go live to Cupertino: pic.twitter.com/j6vYFW5DuC

— The Register (@TheRegister) September 12, 2015
The Apple Store app continued to work during the website's downtime, which definitely wasn't designed to inflate interest in the latest pinky, perky iPhone models, shurely?
After all, the website outage was absolutely nothing like Apple's marketing stunts to stoke up publicity at its High Street stores by encouraging fanbois to snake around the buildings stinking up the place for days on end, until the time comes when new iThings can be fondled.
Nope. Don't be silly. ®