Let's NUKE MARS to make it more like home says Elon Musk
Red planet to become glowing red planet under speedy terraforming plan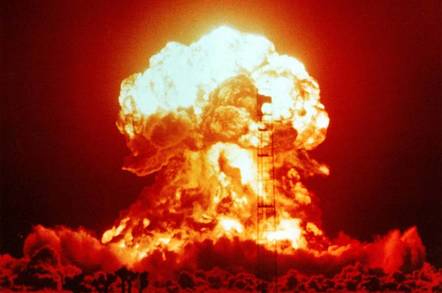 Billionaire electric car, battery and rocketry tycoon Elon Musk has suggested that humanity should nuke mars before we try to move there.
Musk appeared on The Late Show with Stephen Colbert on Wednesday and declared Mars "a fixer-upper of a planet."
To begin with, Musk said, human residents on the red planet would need to live in "transparent domes". Before a move to more hospitable habitats one needs only "to warm it up" and Musk thinks there's a fast way and a slow way to do that.
The fast way "is drop thermonuclear weapons over the poles" and the slow way "is to release greenhouse gases, like we are doing on Earth." Musk didn't explain why we should nuke Mars' poles, but presumably turning the ice caps into steam will help to make the red planet rather damper and heat it up along the way.
Musk also told Colbert he thinks that SpaceX is two years away from being able to safely ferry NASA astronauts to Mars and perhaps landing his re-usable rockets without the kind of fiery mess that eventuated the last time the company tried to land at sea.
Colbert accused Musk of being a "supervillain" for his nuclear warming scheme. The chat show host is presumably unaware Musk's already gone there with the Tweet below. ®
If this works, I'm treating myself to a volcano lair. It's time.

— Elon Musk (@elonmusk) April 15, 2015