PM hints at legislation stick to force blue-light services to share IT
'If you can't share nicely, then we're going to take your toys away'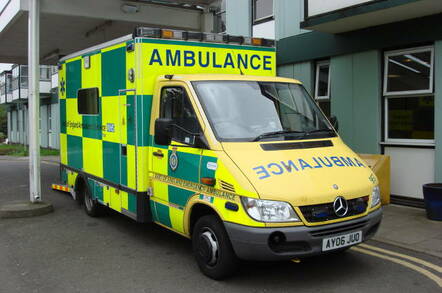 Sick of trying to persuade the blue-light services to consolidate their multiple back-office IT systems, it seems the government is now planning to introduce legislation to force their hands.
As it stands there is huge duplication of back-office services, with 43 police forces, 45 fire and rescue services and 10 ambulance trusts mostly operating their own systems.
However, David Cameron has said the government will introduce legislation to tackle IT duplication.
Speaking ahead of the upcoming spending review, Cameron said today: "Legislation will be introduced to enable the police, fire and ambulance services to combine back-office functions, IT and procurement to save money."
The government has opened a consultation, proposing a new statutory duty on all three emergency services to look at opportunities to work with one another better to improve efficiency and effectiveness.
Minister for Policing, Crime, Criminal Justice and Victims, Mike Penning, said: "It simply doesn't make sense for emergency services to have different premises, different back offices and different IT systems when their work is so closely related and they often share the same boundaries."
Mark Taylor – technology and outsourcing lawyer at law firm Osborne Clarke – said it is unclear what specific legislation Cameron will introduce to tackle perceived "blockers" of greater consolidation of services.
"They might impose a positive obligation on blue light services to force them to consider sharing IT," he said.
Taylor said that a more centralised, consolidated approach would not necessarily be at odds with the government's so-called "localism" agenda.
"Services could consolidate their core, common systems and put a local differentiation on top," he said.
Kiran Chand, senior associate at law firm Pinsent Masons, agreed that it is difficult to speculate without more detail. However, she said there are currently restrictions in the Police Reform and Social Responsibility Act 2011, limiting the types of commercial arrangements forces can undertake.
"Police and crime commissioners' hands are currently tied under this legislation," she said. As such, Cameron may be looking to amend this act, she added.
This will not be the first time the government has attempted to cut costs by forcing greater consolidation of services.
One of the most notable IT disasters in recent times was the Labour government's FiReControl project, that attempted to reduce the number of control centres from 46 to 9.
The plan was eventually canned in 2010, seven years after it began and having wasted £469m, with no IT system delivered and eight of the nine costly regional control centres remaining empty. ®