Apple downgrades iPhone 6S with wimpy 1715mAh battery
'Most' 'advanced' iPhone 'ever' … when it has power, at least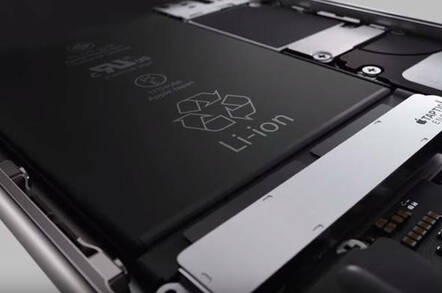 The new advanced pressure-sensitive touchscreen features in Apple's iPhone 6S have come at a cost: a smaller battery pack.
Buried in the hoopla of Wednesday's unveiling event in San Francisco was the revelation that the new 4.7" iPhone 6S comes equipped with a battery pack that has a lower capacity than its predecessor, the iPhone 6.
The video introduction of the 3D Touch interface, narrated by Apple's chief neurological linguistic programmer design supremo Sir Jony Ive, included a shot of the inside of the new Apple handset and its 1715mAh battery pack – which is smaller than the 1810mAh battery in the iPhone 6 released last year.
The 5.5-inch iPhone 6S Plus also has a smaller battery pack, moving from a 2910mAh in the iPhone 6 Plus to a 2750mAh pack, according to MacRumors.
The physically smaller battery is the result of Apple cramming more hardware into the iPhone 6S and 6S Plus models. With the addition of a new "3D Touch" engine – which will open extra menus and trigger other actions if you press harder on the screen – Apple had to sacrifice the larger battery in order to have room for the additional gadgetry.
Even with the smaller battery, however, Apple claimed that the new models get the same battery life as their predecessors. The iPhone 6S lists its 3G battery life at 14 hours, while the 6S Plus claims a 24-hour battery life.
This is apparently due to Apple building battery-saving measures into the new version of iOS. The iOS 9 build, set for release to the public on September 16, boasts features designed to extend battery life in all iPhones. With the OS coming bundled on the 6S and 6S Plus, Apple is able to claim the same battery life despite the smaller battery packs.
The iPhone 6S is also powered by a 14nm 64-bit ARMv8 A9 processor, whereas the iPhone 6 has a 20nm 64-bit ARMv8 A8 system-on-chip. That shrink in transistor gate size is likely to cut the power drain of the newer model somewhat – Apple said the A9 uses three-quarters of the power of the A8.
How that battery life claim will translate to real-world use has yet to be seen. New iPhone features, such as 4K video recording and the Live Pictures photo, could take their toll on battery life and result in users getting less operating time than they anticipated with the new iPhone. ®
Pssst: To give a clue as to how bonkers the Apple world is, Adobe published a blog post about its software for the iPad Pro that mentioned the enormo-slab has 4GB of RAM. That claim has since disappeared from the adobe.com website. We wonder why.
Sponsored: Becoming a Pragmatic Security Leader