Bucks bringer-inner Box beats street, brings home bacon, makes loss
No more low-hanging fruit, but the company's still harvesting new biz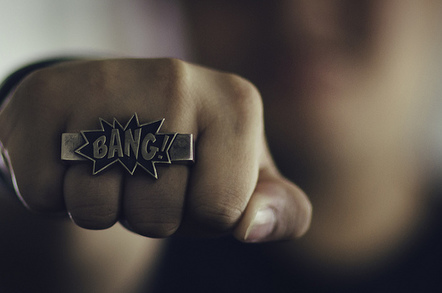 Cloud storage provider Box easily beat its estimated revenue target for its second quarter, with double-digit growth over the year, and lifted its estimated full-year revenue number.
Losses also deepened however, but at a lower annual rate of 33.6 per cent, and shares rose 2.66 per cent to $14.27 as investors patted CEO Aaron Levie's back: job well done, boss.
Revenues of $73.5m were 43 per cent up on the year ago's $51.4m, and also 12 per cent higher than the previous quarter's $65.6m. The net loss was $50.2m: it had been $37.6m a year ago and $47.3m in the prior quarter.
The business sells file sync and share products with collaboration features.
Box is eschewing profits in its post-IPO period as it goes for growth, which is the same practice being followed by Nimble Storage and comes from the Amazon playbook.
It says it has now passed the 50,000 customer count, with Big Blue adopting Box. There are more than 39 million registered users.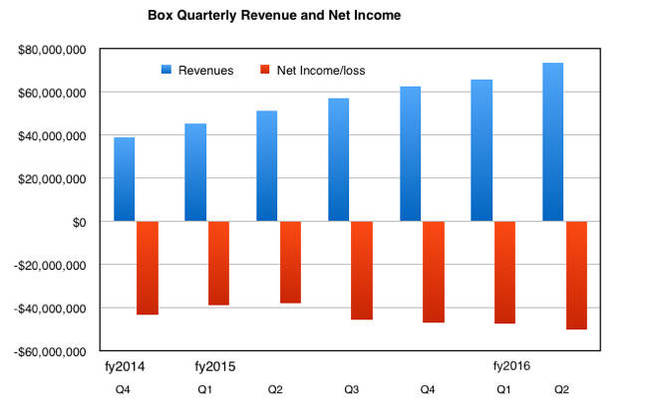 Box quarterly revenue and net income history
IBM has become a Box partner and will integrate Box with its enterprise content management, analytics, social collaboration and security products, and will jointly deliver products to international markets.
"We continue to invest in our core platform, while adding new products like Enterprise Key Management and Governance that augment our ability to capture demand in the broader enterprise content management market," said CEO and co-founder Levie. "Later this month at BoxWorks, we'll announce several more innovations."
The CFO and co-founder Dylan Smith reminded us that profitability is a goal: "We continued to execute on our path to profitability by delivering improved non-GAAP operating margin. While we continue to invest in our large market opportunity and solidify our leadership position, our business model allows us to drive gains in operational efficiency as we scale."
It can continue to make losses for quite a while; cash, cash equivalents and marketable securities were $242.2m as of 31 July, 2015.
Next quarter's revenue is expected to be between $76m-$77m, which would be 34 per cent higher than a year ago at the mid-point.
There's no seasonality appearing in Box's results and it appears to be involved in the steady glamour-free grind that is growth in a business where the low-hanging fruit days are some way behind it. ®
Sponsored: Minds Mastering Machines - Call for papers now open