Beardy Branson says own OneWeb sats can replace Australia's birds
Sir Richard lights rocket, fires common sense into the Sun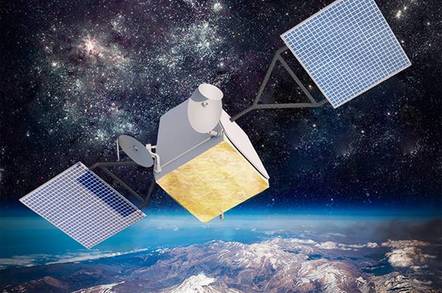 Are things going to plan for the Richard Branson-backed OneWeb satellite venture?
A few months after signing its build contract with Airbus and nominating Arianespace and Branson's own Virgin Galactic to build its launch rockets, Branson apparently hopes OneWeb can somehow replace Australia's National Broadband Network (NBN) satellites. One of which is already on the launchpad.
In Australia to speak to a real estate conference, Branson said he would try to sign nbnTM (the company building the NBN) as a customer in a meeting with communications minister Malcolm Turnbull on Friday, September 12.
Branson said it's unrealistic for the NBN to connect everyone in Australia when OneWeb could do it with its as-yet-unbuilt constellation of 600-plus low-earth-orbit (LEO) satellites.
Branson's plan is to loft 600-odd satellites into roughly 1,000-km altitude orbits, to deliver low-latency wireless connectivity to places where broadband infrastructure doesn't yet exist.
Brisbane's Courier Mail and other outlets report that Branson told the conference OneWeb would "enable people in Australia and Africa to get connected".
Behind its paywall, The Australian Financial Review quoted Branson as saying he could "save the taxpayer billions".
To achieve that, however, Branson would have to convince not only Turnbull, but nbn (which has its own board and management) that the considerable investment already made in the Long-Term Satellite Service (LTSS) can be abandoned.
That investment includes ground stations dotted around remote Australia, one satellite already delivered to French Guiana for its October 1 launch, another under construction, and two orbital slots.
On the other hand, only one of OneWeb's two launch partners, Arianespace, has working launch vehicles (21 Soyuz rockets for the OneWeb project). Branson's Virgin Galactic is signed to supply the bulk of the launch vehicles, 39 of its LauncherOnes, but those rockets haven't yet left their test rigs.
Even in the unlikely event that Federal Cabinet would let Turnbull and finance minister Mathias Cormann (the other "shareholder minister" of nbn) give such an instruction to a business that's supposed to make a profit, Vulture South reckons that the resulting mess would leave the government looking for another new board for the operation.
It's preposterous – so much so that Vulture South can't help but wonder: if Branson is going to spend time pitching OneWeb to a potential customer that can't possibly say "yes", how many of the easy marks have already been pitched and said "no"? ®