Witness Apple's iPhone-iPad extravapalooza here in our no-hate zone
iPad Pro, new Apple TV, iPhone 6S launched – more inside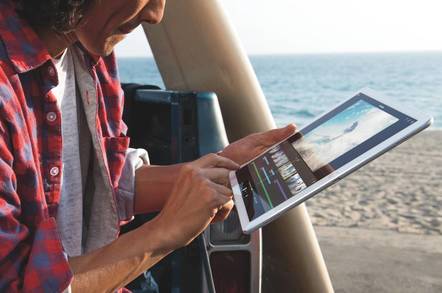 Commentary Gooooood morning, Pacific America. Today is at last the great day. From 10am today, 1700 UTC, Apple will reveal the new era-defining machinery that will power our lives into the future.
Our excitable cousins in the UK are not like us here in San Francisco, California. While we hold hope, they hold scorn. This is now a no-hate zone, and it extends over us and all our warm friends in the media. A circle of light, steel, and a zeal for technology.
I must confess: I am passionate about happiness. And Apple is going to bring just that to us here.
Will it take the physical form of a new iPhone, or an iPad Pro? Who are we to guess. Medicine, space exploration, semiconductor engineering, they are all overshadowed by what Apple and its glorious supremo Tim Cook deign to show us in the next two hours.
All other tech giants – the server goliaths, the database makers, the beasts of the data center – those tedious creatures of a long-dead era, fall into a defeated hush this morning. A silence of respect. This is Apple's day.
What's been announced?
The iPad Pro: a 12.9in tablet with faster A9X processor, 2732 x 2048 touchscreen resolution, 5.6m pixels, stylus (yes, a stylus), a Microsoft Surface-style keyboard, and more. For 32GB, it'll cost $799, 128GB is $949, and 128GB is $1079 with cell network.
The new Apple TV: This set-top box features a new user interface that can be driven by Siri, so you can control your Apple TV-connected telly remotely by voice or by touch. The new remote control has a touch-sensitive surface and a microphone. The box will be powered by iOS-based TVOS so you can run apps, games, and other stuff, as well as watch movies and programs, and ... yeah.
The new iPhone 6S and 6S Plus: a continuation of the iPhone line with a 14nm A9 processor and 12Mp camera.
Live tweets as the event unfolds
You can watch the video stream of the event live here, although you'll need an Apple thing to do so or a PC running Windows 10 and Microsoft Edge. ®