Boffins feud over Indian PM's Silicon Valley visit
Privacy questions see middle digit raised ahead of Narendra Modi's 'Digital India' push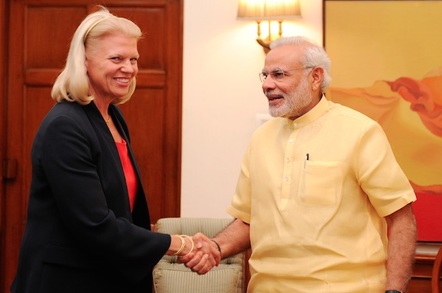 Indian prime minister Narendra Modi will visit Silicon Valley in late September to spread the word about his nation's ability to do digital stuff for the world, but not everyone is happy about his plans.
Indeed, Academeblog.org, the organ of the American Association of University Professors, carried a piece signed by over 100 academics concerned with Modi's signature " Digital India" strategy.
Digital India is an initiative aimed at streamlining India's notoriously sprawling and slow-moving government with electronic services, building broadband infrastructure for India and turning the nation into an electronics manufacturing power. Young people were a key constituency behind Modi's election to the prime minister's office, so the policy is a voter-friendly plan that taps into the aspirations of a connected generation, a genuine reform effort an economic development plan.
One element of Digital India plans for the collection of biometric data from all citizens, overseen by the Unique Identification Authority of India.
The academics who signed the post on Academeblog feel Digital India "... seems to ignore key questions raised in India by critics concerned about the collection of personal information and the near certainty that such digital systems will be used to enhance surveillance and repress the constitutionally- protected rights of citizens."
The letter also points out that Modi was denied entry to the USA between 2005 and 2014. The ban was imposed due to riots that took place in 2002, when Modi was chief minister of the Indian State of Gujarat. The riots saw majority Hindus kill over a thousand Muslims. Modi, a Hindu nationalist, was cleared of in any way being responsible for the riots but has never entirely shaken off allegations that he didn't exactly clamp down on them at top speed either.
The signatories also point out numerous acts of censorship in India under Modi's rule and "urge those who lead Silicon Valley technology enterprises to be mindful of not violating their own codes of corporate responsibility when conducting business with a government which has, on several occasions already, demonstrated its disregard for human rights and civil liberties, as well as the autonomy of educational and cultural institutions."
Comments in reply to the post are often uncivil, which moved the signatories to respond with links to what they say are evidence of Modi's contentious actions.
Academeblog executive editor Aaron Barlow has also weighed in, saying he's a bit worried by comments calling for things like "violent brutal purging" of those behind the first post.
A rather more civil response has since emerged at change.org in the form of a petition titled Oppose Prejudice and Fear-mongering in the 'Faculty Statement on Narendra Modi's Visit'". That effort has gathered around 1,500 signatures at the time of writing.
Modi's due to arrive on September 27th, leaving plenty of time for this argument to run. ®
Sponsored: Becoming a Pragmatic Security Leader