China's TCL strokes Android with its 17.3" fondleslab WHOPPER
And Alcatel's OneTouch Xess goes even further with Google's 'desktop' OS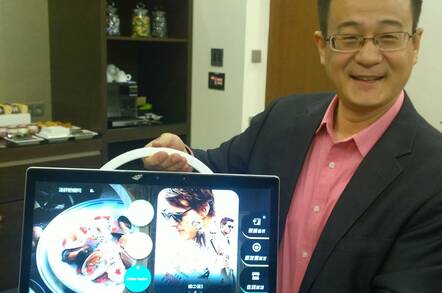 IFA 2015 Alcatel OneTouch, a division of the Chinese electronics company TCL, has announced the Xess 17.3" Android tablet at the IFA consumer electronics event in Berlin.
The TCL/Alcatel OneTouch Xess is a 17.3" Android L 5.1 tablet with 10-point multi-touch, stylus, 8-core ARM 1.5Ghz CPU, 2GB RAM, 32GB Flash storage, MicroSD slot and 2 USB ports.
The unusual aspect of the above is its size, and that it is designed to be used primarily on a desk or tabletop like a PC, not in the hands like a mobile tablet.
According to Dr Stan Hu, CTO, Alcatel OneTouch and GM of innovation at the BigPad Business Center said: "For us, it is a new category. We call it a big tablet."
The Xess is designed mainly as a family device, not only for video streaming, but also cooking, painting and games. A magnet stylus is clipped to the rear, as in the kitchen you often do not want to touch the screen.
"We have interaction through gesture. Speech recognition is a work in progress," said Hu.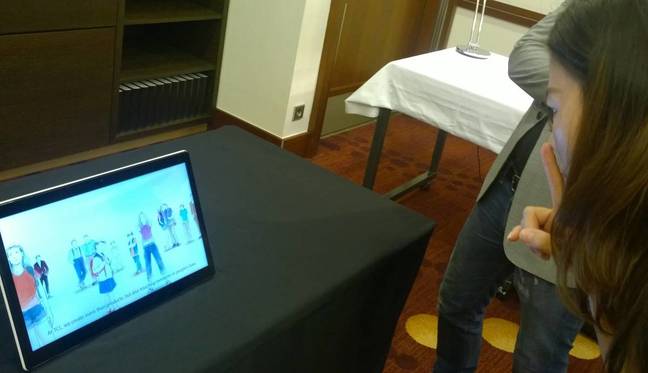 Attempting to mute the Xess tablet without touching the screen
The Reg saw a demonstration using gesture to mute the device, which worked after several attempts. Software is "in the tuning stage", said Hu. Given that Android apps are designed for a small screen, are they useful on a device this size? "We have tested this and a third to 50 per cent of the content is able to fit into the large screen," said Hu.
There is also a split-screen view, which may suit some apps better than full screen.
If you also buy the Go smart watch from the same company, a proximity sensor will interact with the Xess when you enter the room. "It automatically knows about you," said Hu.
What about productivity? TCL sees this as another use and is promising accessories including an IP camera, keyboard and mouse, or you can use any Bluetooth keyboard. Another possible application is for digital signage in retail premises.
This is all PC and Windows territory and a potential threat to Microsoft – particularly as Hu made a point of noting that "we use the Google ecosystem". Although Android is less suitable for this form factor, its rich app ecosystem goes some way to compensate.
The Xess will launch in China later this year, and in the US early in 2016, priced between $599 and $699. European availability is also planned. That price is also in PC territory, which may make this a tough sell.
Alcatel OneTouch was once a French company before its acquisition by TCL, helping it with its European presence, although it is not a prominent brand in the UK. Still, it is good to see a slightly different take on what a home computer looks like in the mobile age. ®
Sponsored: From CDO to CEO